Last updated on August 24, 2018
Slovenia is the mid-point of my year of round the world travels. Actually, it's just past the mid-point, but it's exactly the spot my mind, body, and adventurous spirit demanded a break from the rapid pace of my past eight months on the road. My friend Jenn visited in Italy last month, and that was a firm date for my travels to head into Europe. But now that I'm on the continent, I have no fixed dates until the Edinburgh Fringe Festival next month. Indulgent as it seems now, I slammed on my emergency break, booked an extra week in Ljubljana, and decided to spend an entire ten days exploring things to do in what must be Europe's cutest (and definitely the hardest to pronounce!) capital city.
Although I spent a good deal of time doing non-touristy things (why, hello there movie theatre with English-language selections! My couch-surfing hosts took me to see Terminator one day, and returned a week later to binge on a triple feature of Star Trek, I Love You Man, and Harry Potter), one of the reasons I stayed in Ljubljana, Slovenia was the sheer number of things to do, beautiful parks, and tasty restaurants. It's clean city painted with a pastel palette and a charming vibe. Oh, and with massive number of summer events and festivals that take place nearly every week of summer. With the Ana Desetnica Street Theatre Festival starting just a few days after I had planned to leave, it seemed silly to seek greener pastures when Ljubljana offers so many cool things to do.
Quick Facts About Ljubljana, Slovenia
First up, let's cover a run down of quick questions most travelers have about Slovenia but are too shy to outright ask:
How do you pronounce Ljubljana? For non-slavic language speakers the jumble of consonants makes the word Ljubljana appear harder to pronounce than it is. It's pronounced lube-lee-AH-nah, with the "lj" parts rolling a bit like the middle of the English word "million." This video will get you sorted out.
Where is Slovenia located? Located southern Central Europe, many travelers are surprised that major European countries border it—Italy, Austria, Croatia, Hungary, and the Adriatic Sea. This position makes it very easy to slip Slovenia into any conventional European backpacking trip.
What language do they speak in Slovenia? Slovenian! And a fair bit of English for the tourists. :)
What currency do they use? Slovenia is part of the European Union and that means you'll use the Euro during your time in the country.
Cool Things to Do in Ljubljana's Old Town
With cobbled streets and dragon-guarded bridges, Slovenia's capital city is one of the loveliest places I've yet visited on my trip. Here's a rundown of the things you should do in town whether you have just one day, or if you're there for several days. Some of these take just a moment to admire while others involve hours of relaxing and are best enjoyed with no set agenda:
Marvel at the huge dragons, undoubtedly the most iconic image of Ljubljana, and geek out on Greek mythology since these are the dragons from Jason and The Argonauts.
Ride the funicular to Ljubljana Castle.
Buy an ice cream and walk along the river.
Spend "golden hour" photographing the photogenic streets of Old Town.
Rent a bike from the tourist center and enjoy the cycling paths in Tivoli Park.
Sip a cold craft beer at dusk on a cobbled street in Old Town.
Head to the Metelkova for a range of beautiful street art at the abandoned military barracks, and more formal work at the Galerija Alkatraz art gallery. It's the most hipster area of town and a must-visit.
Wander into a couple museums.
Visit the Open Kitchen street market (open only in the warmer months).
The Best Festivals & Special Events in Ljubljana
Ljubljana is a fast-growing city and the tourism vibe has changed significantly since 2009, when I first visited. Although the summer festivals are the ones most noted and attended by international travelers, the city offers year-round events and shows. It's worth checking the city's official event calendar to see what might be happening while you're in town, or this is a long list of annual events. Here are a few that are on my radar as worth visiting: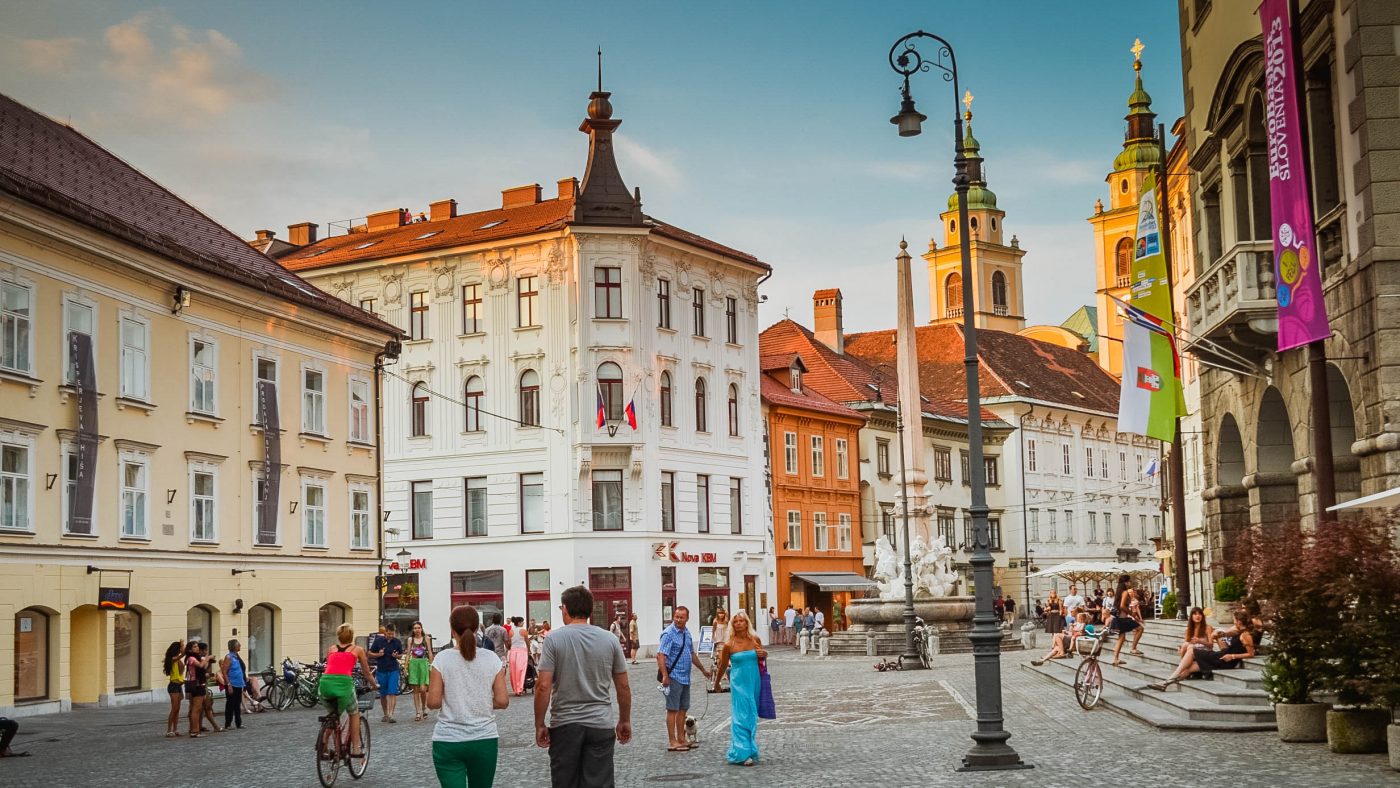 Weekend Road Trips
One of Ljubljana's most compelling features is that it's the capital of a tiny, beautiful country that has a ton of adventurous activities in every direction. Thanks to my couch-surfing hosts, I took a road-trip into Eastern Slovenia on my first weekend. In the following three weeks, my cousin and I visited beautiful Lake Bled and even took a day-trip to into the Triglav National Park, which included rafting on the Soča River. Here are a few other ideas and links to research day trips in the area:
How to Eat Vegetarian in Slovenia
After the dearth of vegetarian food in Bosnia, I was hopeful that Slovenia would offer a different fare. And it delivered! In fact, Slovenia is down-right vegetarian friendly. A number of restaurants easily offered vegetarian dishes, and Ljubljana sports a number of vegetarian and vegan restaurants.
There are a number of vegetarian snacks and dishes that you can find most anywhere, this includes the ever-present burek (which is what I ate nearly every day in Bosnia), ravioli and pasta dishes from nearby Italy, štruklji rolled dough dishes, pizzas, and a plethora of fresh fruit and vegetables from the market. Friends who visited in the years after I left share that there's an entire gourmet vegetarian food scene now, and even a vegetarian food walk that would make a fantastic first-day activity for any vegetarian traveling through the country.
With just a few weeks in all of Slovenia, it's amazing how quickly I came to love this tiny country. Like Bosnia & Herzegovina, I consider Slovenia a sleeper-hit from my year of exploring. I hadn't expected it would be such a lovely, lovely country.
[box]
Quick Tips: Plan Your Trip to Ljubljana, Slovenia
When: Ljubljana is beautiful year-round, but the city has a particularly vibrant summer scene. During the warm summer months you can relax in the parks or along the riverfront right alongside locals.
Accommodation: The city has an excellent selection of hostels, or sign up for Airbnb, which offers a better cost to comfort ratio than most hotels. I also use Booking.com whenever I'm in Europe as they have the best selection of well-reviewed hotels, so you can know what you're booking before you arrive! If you use either of these links, you can also receive a discount on your first booking!
Reading: Use the Rick Steves Croatia & Slovenia guide to plan your visit (although I usually love Lonely Planet guides, this one has more local festival knowledge and better transport details, too). I also have free a Croatia Travel Guide and Bosnia Travel Guide if you're planning onward travels! For cultural reading (which you should always do!), read the beautiful memoir Forbidden Bread or find a copy of The Golden Bird: Folk Tales from Slovenia (perhaps use your local library to borrow a copy).
[/box]
** I sadly lost many of my Slovenia photos due to a hard-drive crash a week after I left Slovenia. These are Creative Commons photos from Zairon and Sami C.