Last updated on May 19, 2023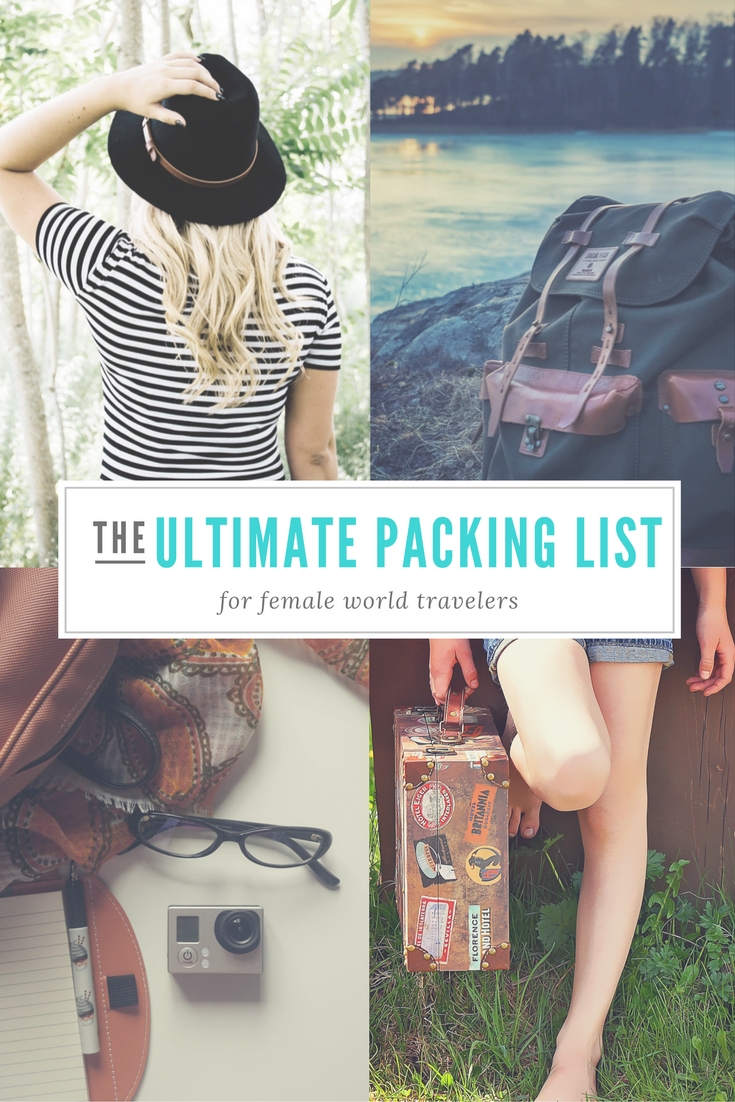 Traveling around the world for a year (or even six months) is a different beast than a one-week or short-term vacation. While there are many similarities, long-term round the world travelers often need different a few things in their packs—your entire wardrobe and gear has to fit in order to work in different climes and locations.
When I left on my first year-long round the world trip, I had a lot of anxiety about what to pack. This post shares not only my one-year long-term travel packing list and the updates I added along the way, but also my current recommended packing list after 15+ years traveling around the world as a digital nomad (because a lot has changed since 2008!). What's more—I don't just tell you what to pack—but exactly why and how I've found it useful, so you can assess if it will also be useful in your own world travels whether you're heading out for a week, a month, or a long-term trip like mine.
Long-Term World Travel Packing List
Picture this: It's 2008, and I am desperately combing through sparse travelogues online. I pause at every selfie (not called a selfie back then) and carefully log in my notebook what clothes the women are wearing in their photos. My list includes notes like "most women seem to carry one hoodie and two long-sleeved shirts!" and "five t-shirts and a couple tanks = enough". I initiated my visual stalking sessions in a desperate bid to discover how many tops and bottoms women packed for their round-the-world trips, along with which brands seemed to hold up throughout their year on the road.
When I left in 2008, I posted my original packing list (below) so that another woman never need to go through that painstaking process. The internet is a different place now, there's a lot of advice out there. But yet, every single week a heck of a lot of people still make it to this page on my website for inspiration when sussing out their own long-term travel packing list. So, consider this my updated packing list for female travelers (updated as of Aug 2021). It's a full guide to effective packing for long-term trips (a month or more) and freely offers up the lessons I've learned after nearly a decade of travel. This male packing list is well done with great recommendations if you're of the other persuasion. Sections cover clothes, shoes, electronics, toiletries and more. I offer brands and products, but keep in mind I had only a few expensive pieces when I started; after 13+ years on the road, some of these were investment pieces that may or may not be worth it for your trip.
Note: As an Amazon Associate I earn a small commission from qualifying purchases—this does not affect my recommendations obviously, as this is a list of my current gear and recommendations that I paid for myself.
| | | | | |
| --- | --- | --- | --- | --- |
| | Dress (1) | Short-sleeved shirt (5) | Long-sleeved shirt (2) | Tank top (1-2) |
| Thermal (1) | Cardigan wrap (1) | Travel pants (1) | | Jeans (1) |
| Hoodie (1) | Thin raincoat (0/1) | Underwear (6-8) | Bras (2-3) | Leggings (1) |
Travel-Friendly Tops
There's a good amount of variability here depending on your style preferences and where you'll spend the bulk of your time on the road. If you're only dipping into cold places, then opt for one fewer long-sleeved shirt because you can always use your thermal as a base-layer and then put a t-shirt over top. If you plan to go outside, which you will, then you must travel with a good UV protective shirt. Most people on a round the world trip do a lot more outdoors activities than they would in everyday life. You are sightseeing, snorkeling, trekking, kayaking, etc. A UPF 50+ shirt is a must-pack. I had one on my round-the-world trip, and it's always with me now, too—over the years I invested in a long-sleeved one for cooler hikes as well. For the other t-shirts in your bag, simple cotton ones from your closet will likely suffice. Make one a tad nicer so that you can wear it out for a nice dinner. I also carry two thin tank tops; I sleep in these, or wear them in non-conservative hot climates. I tend to pack a range of colors for tops, though all in the same shade families so that key items layer well.
Lightweight/Versatile Dresses
Dresses and skirts an be a lifesaver since they allow you to stay cool in the heat. I tend to favor traveling with two below-the-knee skirts these days, but when I pack my travel dress it's pretty similar to this Columbia dress. I've tried on prAna dresses over the years, which are well-made and raved about by other travelers. I've never found one that really hit my fashion sense, and I tend to stick with Columbia brand items because they fit my frame well, but I note that here in case you see one of their dresses that you love better. I recommend getting a travel dress with inch-thick sleeves at the very least. This is more versatile in slightly conservative areas, and if you get a dress that covers more of your shoulder it provides better sun protection too, which is important if you wear it out sightseeing! Should it be a travel-specific dress? No! And, yes! If you're packing for a month, stick with one in your closet—if you're traveling with the dress long-term, however, travel dresses just tend to hold up better to many, many washes.
Pants & Bottoms
The skirts and dresses that I recommended comprise half of my "bottoms," and that's always a good ratio since I am most often in warm climates. I just wear leggings under skirts in cooler climes. In addition, I carry my fancy lightweight travel pants. I had a pair of Columbia pants when I first left and I loved them dearly, but they ripped when I took a particularly gnarly fall on my bicycle in Mexico. So, I replaced them with the closest I could find, which is a black pair of Columbia Aruba pants. These pants run small—truly very small, like maybe go up two sizes if you have hips/butt. These prAna Halle ones though are what I will buy when I wear out my current high-tech pants because they are more true to size but still look good. To that end—go with black, that's the entire point of these slim but functional pants over cargo styles from the North Face (which I also own and use on hiking trips, but just can't fathom packing on a long-term trip because they're so touristy). The prAna pants are more stylish than many pants in this travel category. Besides that, I carry a pair of lightweight skinny jeans. I also carry whatever pair of black or grey leggings that I find in my drawer when packing. I don't wear leggings as pants, but I do wear them under everything, including my jeans if it gets cold enough. Leggings are a good idea for most long-term world travelers since they make all of your outfits a bit more versatile in warm/cold weather. I find that shorts are not very handy in conservative cultures, which you will undoubtedly visit on a long-term trip. Plus they tend to be very short or very ugly. If you love shorts and are traveling to countries where you can wear them, consider packing just one skirt as a trade-off. Also consider packing a pair of thin capris instead of shorts, on my RTW trip I had capris and they were convenient (but now I just prefer skirts for personal and style reasons). My bottoms are nearly always greys and blacks and occasionally a colorful skirt; that way everything matches my tops.
Travel Skirts
Women will need a calf-length skirt at the very least to allow you to visit the temples and churches of this world. On my round the world trip, I had an ankle-length skirt that came in very handy during my four-months in India and Nepal. Since then, in the rest of Asia and in Europe, it's really most handy to find a skirt that hits just below the knee. I own this Merino wool skirt, which is terrific—it's durable and travel friendly and it's a great brand . . . but it's a tinsy bit too short on my tall frame to work in temples. I pack this skirt when I head to Central America, where it's a lot less conservative! Even then, however, I always pack at least one of these cheap Stretch is Comfort skirts that have held up remarkably well—I own that skirt in four colors, that's how much I love it—the skirts have the perfect cost to function to style ratio. Sure, they will show sweat on a rough day, but they are cheap, functional and just the right length for conservative cultures.
Underthings: Underwear & Bras
Not gonna lie, I pack eight pairs of underwear when I travel—half half thongs and half full-butted underwear. I do this ratio completely because of personal preference (but also because thongs are tiny and I don't totally hate them). The fancy travel underwear from ExOfficio have many doting fans among the traveler set—I own three pairs and only pack them if my long-term travels include a fair bit of trekking/hiking (I bought them to hike the Camino for five weeks and did not regret it). That said, I've been fine with regular underwear that I pick up at American Eagle when I pass through the states. Hardcore backpackers pack two pairs of underwear and wear one while washing the other pair. That is not me and will never be me, so I refuse to feel guilty for my eight pairs. When traveling, you need enough underwear that you are not laundering clothes every day. I also pack two bras—dark and light—and one sports bra. And I carry a pair of small sleep shorts. I usually just wear one of my tank-tops to bed. In cold weather, I sleep in my leggings and wear my thermal to bed instead.
Jackets & Outer-Things
When I first left to travel, I was cash-strapped and I bought a $20 zip-up hoodie from Target and carried that around the world. It looked gnarly at the end of my year of world travel—all pilly and faded. I was actually sheepish about how shabby I looked at the end of my trip, which ended in the UK and Ireland. My pilly jacket made it very clear I was a budget backpacker. Now, I've invested in better gear that looks nice and holds up well. You can't do much better than this Icebreaker Quantum zip hoodie, which is made from Merino wool. It's among my favorite travel brands because the clothes are durable and always fit well, too. Now, I also carry a lightweight cardigan for a tad bit of protection warm climates or cool evenings. I wear my hoodie on planes and travel days and in cold climates. And generally, I wear the cardigan all over for sightseeing and day-to-day travel—it's super thin so it's not too warm in hot climates to work as a shield from the sun. On my RTW trip, I carried a fleece pullover, but now I invested in a very nice thermal underlayer (I had a cheap cotton one before) and it replaced the need for a fleece. Many travelers also pack a lightweight rain jacket, which is ideal during rainy and monsoon seasons, and it also acts as a thin windbreaker.
TL;DR: What Clothes to Pack for Long-Term Travel
8 tops (~4 t-shirts, 1-2 long-sleeved shirts, 1-2 tank tops, and 1 UPF shirt)
4 bottoms (2 travel pants/jeans, 1-2 skirts, 1 dress, 1-2 shorts/capri)
Cold weather layers: 1 pair leggings, 1 thermal, 1 hoodie
1 thin rain jacket
4-8 underwear
2-3 bras + sports bras
1 pair thin sleep shorts
---
Mix and match the shoe recommendations to fit your the trip you have planned. You should probably limit yourself to three shoes that, in combination, allow you to trek, do water activities, and look nice.
Pack Boots or Walking Shoes?
Finding the right travel shoe is one of the two most important packing decisions you will make (finding the right backpack being the other). On my first RTW trip (and for a few years after) I carried these New Balance shoes and they were so fantastic that I replaced them with the exact same pair of shoes when I returned. These versatile shoes worked well because they were sturdy enough to function as hiking boots for my trek in the Himalayas, but they're also light enough to double as general sneakers for everyday sightseeing. They are the most comfortable and cushioned hiking shoe I have ever found. Now, however, I travel with a pair of Skechers GoWalks and I love them. These Skechers are an ultra lightweight shoe and serve me well in my slower travels now, but—and it's a big but for a round-the-world trip—they would not have held up to a year on the road, and I would need to buy a pair of sturdy shoes if I did any sort of trekking.
If I were doing it all over again, I would definitely bring my New Balances if I planned to do any big hikes (Machu Picchu, Nepal, etc), but if I wasn't doing something like that I would find a Merrell store and try on these Siren Edge Hikers. Along with my walking shoes, I now have a pair of green Chuck Taylors, which I deeply love but definitely did not bring on my RTW trip because they offer no support and are impractical. Adjust your shoe choices to your planned trip and activities. And consider buying an insert no matter which shoe you choose as the ones that come with shoes are lame. I have high arches and buy a Superfeet insert for all of my travel shoes (the green is their classic, but use their website to determine which color best fits your foot situation. Note that if you use insoles you often need to go up half a shoe size).
Pack Quality Socks
Get ready for a fangirl rave about my love for SmartWool socks. You should not scrimp on good footwear since it's such an important part of long-term travel, where blisters and ill-fitting shoes can really ruin a trip. Socks are also important and can play an important part in avoiding stinky feet syndrome. These SmartWool socks are magical. Pack at least one pair to wear during treks and outdoorsy activities. They will keep your feet dry and cushioned. If you're planning an active trip, pack two pairs. Then just throw in two pairs of thin cotton ankle socks. Four pairs of socks should work for most people, especially if you have comfortable sandals you'll be using to explore and sightsee, too. If you're on a hiking-heavy trip, pack a pair of tall SmartWool socks.
Best Travel Sandals
On my long-term travels, I needed something versatile and durable, and there is no better travel sandal than Chacos. You'll meet many long-term travelers wearing these because they offer good arch support and you can wear them in a wide range of circumstances, from trekking through waterfalls to sightseeing in hot climes. Alongside my Chacos I packed a pair of flip-flops to do the trick in hostel showers and casual situations. Like with my pants suggestion—avoid the need for color here, just go with black.
Now, I replaced my flip-flops with this comfortable gladiator sandal, which is hella stylish and yet surprisingly travel-y. For years, I recommended the Crocs Sexi-Flip sandal, which remains the best travel sandal out there, but they are hard to find, and the "upgraded Serena" sandal is just not the same. I replaced my Sexi-Flip crocs four times over the years, and am devastated that they discontinued it. The Haviana gladiators I now recommend are still quite comfortable, but they don't transition as well to night-time chic.
One problem with just traveling with sandals and boots is that you have nothing to wear in nice situations. Carrying a versatile sandal is especially needed if you don't plan to carry ballet flats. I want to like ballet flats, but on a long-term trip I've never found a way to keep them from smelling really bad after a short bit. Truly, I've tried them all and I've tried everything from inserts to spray deodorant—no dice. For that reason, I don't pack flats any more; I sometimes buy a cheap pair if I'm in a spot for a while, but I mostly rely on my gladiator sandals. It's up to every individual woman how she decides to navigate the need for a dressier shoe (also note that most clubs in Western countries will not allow flip-flops).
Yes, You Need a Sarong
A sarong has untold uses and every female traveler should pack one. My sarong can act as a travel towel. It's a beach coverup. It's an emergency bedsheet, sun protection for my face, a stylish accessory, and more. Pick a sarong in a fun color and pattern. And while your sarong surely works as a scarf, I carry a scarf as well because I am always cold, plus it's fun to have a few extra things to make an outfit more stylish. Consider this pickpocket-proof travel scarf as it's mega-convenient with a hidden pocket.
TL;DR: What Travel to Shoes Pack
1 pair hiking boots or sturdy walking shoe
1 pair Chacos or sports sandals
1 pair stylish sandals (flip-flops for hostels)
1 pair ballet flats (super optional)
---
| | | | |
| --- | --- | --- | --- |
| | | Makeup | |
| Razor & blades | | | |
| | | | |
| | Prescriptions | Carabiners (2) | Earplugs |
Toiletries
Buy a high quality liquids containers. When I first left, I had great ones from the Container Store, eventually I supplemented with these squeeze tubes and love them. Whatever you buy, buy a good brand as it sucks to have them leak all over. I am not much fussed over my toiletries, so I fill these with tubes with whatever is in the bathroom. I've dyed my hair a lot in the past, so I actually dump into a tube that highly concentrated conditioner that comes with dye kits because it lasts a long time. Other than that, it's personal preference what you put inside; they sell a lot of major brands all over the world (Pantene, Dove, etc). Some travelers swear by non-liquid shampoo bars, but I've never gone that route—they're a bit pricey and I personally prefer to splurge in other areas. If you need to save on liquids though for carry-on travel, they're a solid option.
On the road, note that face lotions in many countries contain whitening elements, so I always pack an extra face cream and an extra quality sunscreen to last a good while (you'll be fine in Europe, but not necessarily other regions of the world). Pack your deet repellent in its own ziplock bag. And for dental hygiene, toothbrushes and toothpaste are a cinch to replace on the road; I use a SteriPod to avoid toothbrush funk. As for toiletry cases, I used this small zip one for many years and it worked well. For Christmas I received this hanging one from MEC (a Canadian outdoors company) and it's magnificent. It's a cinch to hang from door handles or towel bars to keep everything handy, especially in bathrooms without countertops. The closest you can buy on U.S. Amazon is this Sea to Summit Hanging Bag—a good option from a go-to company for travel gear. Go for a small-to-medium sized bag, because you may want to take it directly into showers with you, and you can keep things like hair brushes, the deet, and other things in a small packing cube.
Prescriptions, Contacts, & Glasses
If you have prescriptions, either carry a year's supply or research where you can top-up on the road. Carry paper copies of your prescription, and scan them and email them to yourself too. it's dead-simple to get an eye exam and new contacts in Europe, but not if you don't speak the local language.
Also, some prescription pain meds are controlled substances in countries with harsh drug policies, so if you have any irregular prescriptions, research that ahead of time. I carried a year's worth of contacts with me (I wore two-week throwaways) and I was able to replenish contact solution on the road. I also carried a pair of glasses and a case. Since I am seriously blind without my glasses, I scanned and emailed myself both of these prescriptions in case I was robbed or in case something else happened (I've taken multiple eye exams in a foreign language; it's not fun).
Menstrual Cup
Menstrual cups like the Diva Cup are the single best way to handle your period on the road, and this post explains what and why. I highly recommend you go this route. Truly. Read the post. Consider the options. You'll thank me. (True story, about two women travelers every month email their thanks for this tip alone).
Luggage Lock
Just yes, you need one. It won't stop someone intent to steal, but it stops quick theft. I carried two around the world, this one for luggage and this one for my hostel lockers.
Medical Kit
Start traveling with a good base for your medical kit. Once you have the base, remove the things that seem overkill (I have never carried or needed an ice pack) and then customize it to meet your needs and add a few things that are often lacking. These oral rehydration salts have saved my life, twice. I carry many now. Also, no matter your stance on antibiotics, you should carry them. I always add a full bottle antihistamines for my hayfever. Carry the basic painkillers: ibuprofen, acetaminophen, aspirin. An antibiotic like Ciprofloxacin or Azithromycin (or both). Loperamide for diarrhea. Malaria medicine, if needed. Band-aids, gauze, triple antibiotic ointment. From there, top up your kit when you are on the road—antibiotics are over the counter in many developing countries and they all carry ORS, antihistamines, etc.
Door Stop and Safety Whistle
Though I didn't take these on my RTW, many solo female friends swear by both these items for giving them more peace of mind on the road. The door stop is a basic precaution in hotel rooms where the door might not latch correctly, and though the simple one is cheap, this high-tech one would do a much better job.
Water Bottle
I drink from a stainless steel Nalgene because I prefer not to drink from plastic; if you're not fussed, you could go with a durable collapsible bottle. Either way, having your own water bottle saves money and is convenient and prevents overuse of plastic in countries with few effective recycling programs. Many guest houses will have refill stations. And if you bring a SteriPen or LifeStraw then you'll need one of these too (here's my SteriPen review).
Hat
Sun protection is no joke. This sun hat does the trick.
Misc Bits & Bobs.
I carry this handy travel spork and I love it. If you are a budget backpacker then having a set of utensils comes in handy—it's less necessary for mid-range and higher travelers. I carry a tiny ziplock with things like bobby pins, safety pins, a tiny sewing kit, extra hair ties, matches, and a pencil with duct tape wrapped around it. I explain that more here with ideas for travel hacks for those travel MacGyver moments. I also carry two carabiner clips and I love them dearly for their handiness. I use regular carabiners (with the screw lock) for a range of things. To attach my wallet to my purse, making it pick-pocket proof. To attach my purse strap or backpack to my chair when eating somewhere so it's not easily swipeable. To attach shopping bags, water bottles or things to my bags. I've even used it to attach my camera strap to my backpack when sightseeing to prevent a motorbike from driving by and snatching it. So cheap, so many uses.
TL;DR: Packing Toiletries & Long-Term Travel Essentials
1 set leak-proof containers
prescriptions (scanned and stored online; printed for pain meds)
1 luggage lock(s) (optional combination lock needed for hostels)
1 menstrual cup
1 hat
1 medical kit
1 spork (optional)
safety essentials: door stop, safety whistle carabiners, pencil wrapped with duct tape
---
After a couple years on the road, the weird positions of working from the road caught up with me. In addition to the gear listed here, I have a complete ergonomic travel system with a laptop stand and friendly tech that prevents further carpal tunnel and RSI injuries. If you're keen on that, I have listed out The Best Ergonomic and Portable Travel Gear.
Adapters & Charging
If you're traveling with a good amount of technology and if you're in a couple, then you should consider packing this handy Belkin powerstrip. Many times hotels will have just one outlet, so this is the best way to ensure your camera, phone, and gear is all charged in the morning. I always carry a bigger multi adapter (and these have gotten very cool now, where it has a USB-C charging spot for my Mac, as well as three quick-charging USB ports!). Then, a few stray smaller ones usually float around my bag since I have a lot of electronics to charge—although now that the bigger adapters have so many USB ports I can more easily get away with just one universal travel adapter.
Computer
I carry a laptop since I work from the road (more on that here) and after 13+ years of travel, it's never been stolen (knock on wood for me, will ya). I have a MacBook Air now (used to have a Dell PC). In the past, I have used my PacSafe in sketchy areas, though I usually carry my computer out sightseeing if I am truly concerned. There is also the option of packing a cheap netbook too if you're not working on the road. And really, a tablet could do the trick in that case too. Read Should I Bring my Laptop for an in depth discussion as other travelers weigh in on the options.
Camera
I carry a Panasonic Micro Four-Thirds. The micro four thirds (mirrorless) cameras are the ultimate travel cameras and my review of my Panasonic shares why. Even more, NatGeo magazine named it a top travel camera. These cameras are fantastic. Basically, it's almost to the level of a DSLR (with detachable lenses and everything) but at least half the size and weight of traditional DSLR and far nicer photos than a point and shoot. Nothing wrong with a point and shoot though! If you're not into high end photography and just need something that works, you can't do much better than this Canon Powershot point-and-shoot; I had a predecessor to this camera for my first two years on the road. The point-and-shoot is only valuable if your SmartPhone is not the latest model—they take really good photos now!
iPhone/Smartphone
I adore my unlocked iPhone; if you unlock your smartphone you can buy cheap SIM cards (about $2) and plans for well less than $15 a month to use while you travel. This helps when meeting up with other travelers and calling guesthouses to book ahead. Also, the cameras and social sharing features are fantastic and mean you don't always have to carry your bigger camera when your little one takes high-resolution photos. My techie friends put together a great list of how to buy SIM cards in various countries around the world.
Backup Hard Drive
Depending on your travel situation, you should likely bring a portable backup hard drive like this Western Digital Passport (what I carry), or the LaCie Rugged drive, which would handle rough travel. Also consider online data backup programs. I wrote a detailed post on How a Long-Term Traveler Can Back Up Heaps of Data.
Water Purification
Consider a way to sterilize your water. I have seen the LifeStraw in action, and it looks like a great all-in-one option; if this had existed when I left I would have probably carried this instead of a SteriPen, maybe. The SteriPen is a great device, it uses UV light to sterilize unsafe water in about a minute. I used this extensively throughout India, also Laos, Uganda, and other really undeveloped countries where filtered, clean water is harder to find. I reviewed it after my trip and although you might not need it often, if you are going to very underdeveloped countries, I advise having it as a safety measure. I also carry a Klean Kanteen water-bottle to save money and the environment (fewer plastic bottles!).
Rechargeable Battery Pack
I carry a small backup battery supply that gives me two extra charges on my cell phone and a charge on my Kindle. This will save you if you use your smartphone for navigation sightseeing or entertainment on long bus rides. I carry one like this Anker battery pack.
Kindle/Tablet
I've of two minds on this. I carry my Kindle Paperwhite everywhere and I deeply love it. I will not leave for travel without my Kindle. I traveled with an iPad mini too, in the past—it was all overkill since I travel with a laptop. The only strong value I found in the iPad was that my electronic guidebook was far easier to navigate on the tablet than the Kindle. Usually, however, I carry a paper guidebook, so I am leaving the tablet with my nephews next time I pass through home. If you have a laptop and a smartphone, then there is very little value in carrying a tablet. If you're a reader, however, than a Kindle is invaluable. Same goes if you are a solo traveler, it's nice to have a trove of books to pass the time. Double points if you renew your library membership before you leave; you can check out electronic books for free while you travel.
Something Silly
I carried a deck of cards during my entire RTW trip, and in the years since, I also pack a portable cribbage board when I travel with my nieces and nephews, or Bananagrams if I will be near friends who also like board games and cards. Travel is about time spent bonding with others, and these silly items will give you a reason to encourage new friends to put down their smartphones and hang out.
TL;DR: Essential Electronics on Long Trips
1 laptop/netbook/iPad
1 smartphone with quality camera
1 Kindle
1 backup hard drive for photos
1 portable charger
1 mirrorless camera or point-and-shoot
2 travel adaptors (1 multi-USB adaptor; 1 set of small ones)
1 water purification device
1 pack of cards
---
How to Interpret Packing List Advice
Above I offered up my current recommended packing list items, as well as the rationale for or against packing each item I recommend. For a bit more help on actually deciding what is worth carrying on your back for a long trip, let's take a look at how to interpret this information on my packing list, as well as any others you've bookmarked.
Know Thyself
Every person has their own style, and that should play a role in what you ultimately pack for long-term travel. If something doesn't make sense, but yet a lot of people recommend it, consider if you can pick it up once you're on the road. Also look at all of this in terms of what you also like in your current life.
Let's talk about three things that other travelers have mentioned to me over the years as misguided advice. First, leggings. I packed leggings and I love them. Even now that the leggings trend is waning, I pack a pair and use them constantly. But one blogger followed up and said my advice was rubbish and she never once pulled them from her pack. Where's the disconnect? She and I wear different clothes, and we likely experience cold differently. My leggings act as my sleepwear in cold weather or hotels with A/C. I don't think twice about using them under my pants for extra warmth (like the buses in Myanmar, which are so unbelievably frigid that I cried a time or two and had to hug my niece for hours to keep her warm).
I also packed an above-the-knee short dress that worked well in Australia and Europe, but I used my leggings to make it culturally appropriate in the 6+ months I spent in Asia. The woman who emailed didn't find that need, or she had packed something else that sufficed. Instead of purchasing every recommendation, for some, go with the spirit. Maybe you're a tights person instead! :)
The same could be said about jeans. I took other people's advice about not carrying them, and then bought myself a pair along the way. Now, in the subsequent 10+ years I've continued traveling, I've never left home without my well-worn jeans. I like jeans and I favor them in regular life. For me, I value the trade-off and carrying them is worth the extra weight and drying time (they are hard to dry in monsoon season). If you're happy in trekking clothes or quick-dry, or perhaps you favor khakis, then take my jean recommendation in the spirit of "bring bottoms that you like to wear."
Pack What You'll Wear
Packing lists seem to go one of two ways, either fashionable or what I can only describe as "safari-light." For a round the world trip, or long-term travel, you'll likely need something that crosses between the two. While I love those pretty packing lists for Europe that I've seen online, you're going to also needed clothes of a quality and style that can last for the length of your trip and also ones that will work in a range of circumstances.
If you're fashion-conscious, read through this list with an eye toward clothes that fulfill a role that your current wardrobe does not. Do you have clothes to hike a mountain in a conservative-yet-tropical place? While a tank-top suffices in some places, it won't cover enough skin in others.
It's because of that range of situations that you need to think about long-term travel as a mix of dual and often competing needs. Stylish but functional and long-lasting. Suitable for warm-weather, but layerable so you stay warm in cold weather! You may have never worn a rashguard/sunshirt in your life, but you should seriously think about one if you're planning outdoorsy activities. I am not claiming they are fashionable, but on a long trip, they may just avoid an unwanted third-degree sunburn.
Since your daily life doesn't likely need much flexibility, pack items with an eye toward not only what you like to wear, but what will serve your trip in the hundreds of new experiences in which you will find yourself.
Consider the Climate
Most packing list advice for long-term travel attempts to cover a huge range of climates and countries. That's inherently trickier than packing for a two-week trip to one climate. Even though my own RTW trip included several continents and climates, it's still different than your trip—and possible different in very important ways.
Let's consider my advice to pack jeans if you're keen on them. I love jeans and faithfully carry a pair, but in 2016 I backpacked through Vietnam with my trusty jeans … and they stank to high heaven. In the past, I had always traveled outside of rainy and monsoon seasons. Sure I hit rain sometimes, but in the past, it was a few days of rain and eventually enough dry air to thoroughly dry my jeans. This time, after three weeks with just a few hours of sporadic sunshine and nearly 100% humidity, my jeans reeked of damp clothes smell. I shoved them in a ziplock for weeks until I could get to a new climate.
What this means is that you need to temper any packing list with adjustments for your trip. If you are backpacking Asia during rainy season, then you might want to consider swapping some cotton shirts for quick-dry fabric.
And my RTW trip also chased summer around the world. Although I spotted snow on my trek in the Himalayas, that was brief and my layers sufficed (I also bought a cheap jacket in Kathmandu for the hike and ditched it a few weeks later). If you're visiting ski destinations or snow climes, you'll need to either pack a heartier base layer or plan on buying/renting a heavy jacket once you arrive. You'll also want an extra pair of wool socks.
Tiny tweaks like what I mention above are impossible to account for if you follow someone else's packing list in full. Instead, take the packing list advice and compare it to the trip you're planning around the world.
---
How I Picked My Backpack
The red backpack is my main pack and it's a 52L Eagle Creek Meridian. Eagle Creek doesn't make that pack anymore, but this Global Companion is nearly identical to mine (they have one in a larger size too now). At the time, I feared I may need something bigger, but this backpack was free from my bestie in LA, and free won out. Now that my RTW is over, 52L was the perfect size. I used this bag for five years, and only stopped to downsize and to switch to a 40L rolling bag. 52L was big enough to carry clothes for two people even, although I wasn't that disciplined to carry so little, at first. But on my world travels through Southeast Asia with my niece, we shared this backpack and each carried a daypack—that size sufficed us both for seven months. The lay-flat design and women's fit is what sold me on the Eagle Creek bag—it makes a massive difference. Even as I've seen others with Osprey and other packs, I maintain that EC has the best build design, and certainly the most comfortable for a woman's frame.
The blue bag (North Face Surge) held my laptop and all of my electronics gear on travel days, and it acted as my daypack when out sightseeing. I used (and fell in love forever with) using a packing cube system to organize everything in my bag. These packing cubes saved my life on travel days when I was rushed to repack and bolt out the door. I am a forever evangelist for packing cubes.
This bag setup was my system for six years. Eventually, in 2014 I changed to THE most amazing rolling suitcase from Timbuk2, and I used Timbuk2's Showdown backpack since it was a bit more low-profile and small than my trusty North Face. This setup with the two Timbuk2 bags is what I used from 2014 to 2019. I still deeply love my rolling suitcase and will never switch, but I've switched up my laptop bag over the years (I also have a Timbuk2 messenger bag and a Herschel backpack—this Herschel backpack is my current laptop bag, and it's my sole luggage when I travel around Europe because it fits under the seat in front of me and holds a week of clothes if you're super minimalist). (NOTE: I paid for all of these bags by the way, so it's all my honest opinion on what works). I travel more slowly now, so it doesn't make sense to have the same packing system that I used on my RTW trip. But, even to this day I swear by the packing cubes. When I left my pack was packed to its seams, but much of my stuff did not make it beyond Australia.
I have an in-depth guide on how to pick a backpack. The size and fit of a pack is so important—it's imperative that you take the time to pick a good one that will serve your trip well. And if you are convinced that I overpacked (I did that first year!), then this Guide to Carry On Travel might be up your alley; Erin has great advice and it's a good jumpstart on your research.
---
My Original RTW Packing List (2008)
Because I believe in the preservation of information, this is the packing list I took on my year-long round the world trip. I also maintained the dispatches from the road which cover exactly what I had to replace, send home, etc. This list is what I published in November 2008 when I left on my trip. The packing list above is a curated packing list that includes things I've learned over the years. :)
CLOTHES/SHOES
1 pair of lightweight tech-travel pants
1 pair of jeans
2 skirts
1 pair of sleep/athletic shorts
1 travel dress
3 tank-tops (1 dressy tank)
1 sun shirt/rashguard for outdoor activity
3 shirts/t-shirts
1 long-sleeved thermal
1 long-sleeved cotton shirt
1 fleece pullover
1 zip-up hoodie
4 pairs of socks (love my two SmartWool socks; plus 2 cotton)
8 pairs of underwear
2 bras 1 sports bra
1 scarf
2 pairs of leggings
1 hat
2 pairs of capris
1 pair of Chacos sports sandals
1 pair of New Balance hiking boots ( I deeply love these as hiking shoes)
1 pair of flip flops (for shower shoes in nasty hostels)
MISCELLANEOUS
PacSafe Mesh net
Microfiber travel towel
Sleep sheet
Sunscreen
Deet insect repellent
1 extra copy of my passport
1 mini sewing kit
2 carabiner clips
1 headlamp flashlight
1 mini set of eating utensils
1 pocket knife
1 travel adapter (and a couple tiny adapter tips)
1 travel medical kit: Advil/Tylenol/Aleve, antibiotic, malaria medicine, band-aids, gauze triple antibiotic ointment, cough/zinc drops
Random bits: bobby pins, safety pins, sharpie, pen, duct tape (wrapped around a pencil), small scissors, etc.
TOILETRIES
Toiletry case
Refillable travel size containers of: shampoo, conditioner, sunscreen for face, face wash, travel size toothpaste, floss, deodorant
Toothbrush
Razors
Diva Cup
Contacts (full trip month supply)
Contact solution and 1 eye glasses case
Hair ties
MAKEUP
1 small bottle of foundation
1 compact eyeshadow duo
1 mascara
1 blush
These are things I carried in my daypack and my travel purse!
ELECTRONICS
My Laptop: (I had a Dell but now use a MacBook Pro)
Western Digital hard drive (2+ TB is a mere $100 so it's worth bringing one to back up photos!).
MP3 Player (now I travel with an unlocked iPhone)
Camera: Canon PowerShot (I upgraded in year two to a Panasonic Lumix Mirrorless)
Headphones for Skyping/music
Kindle (as of 2012 I carry one of these now)
MISCELLANEOUS
Journal
Book: Started with "Water for Elephants" by Sara Gruen
Neoprene laptop cover (it's my computer's raincoat!)
SteriPen
Pens
Deck of cards
My money belt (around my waist version; I used mostly for trains in India and Eastern Europe)
---
For insights on how I fared with the above packing list, here were my updates from the road circa 2009.
Dispatches From the Road
01/07/09: RTW Update from Australia
My beloved headlamp that was so helpful at the hostels here was lost/stolen on my outback safari to Uluru. Plan to replace as soon as possible.
My hat was left on a bus along with my Nalgene water bottle.
02/02/09: Update from Cambodia
Shipped home a package of souvenirs by sea — hope it gets there!
My jean skirt is now unnecessary, shipped that home too.
One pair of capris was stained beyond wear (trust me) so left those behind in Phnom Penh.
Bought a pair of farmer-style pants in Laos.
Contact solution has been incredibly hard to find. Wearing glasses for now
02/25/09: Update from India
Helen brought me a new headlamp to replace the flashlight I have been stuck using.
She also brought a new nalgene water bottle and a SteriPen — amazing, truly.
Bought an Indian kurta and haven't regretted it for a moment. GREAT for trains and blending in as much as possible.
Picked up a new scarf. Lighter than the warm one that came in handy in Oz and Laos—much better for India.
Left my purple shirt behind in Jaipur, it was nubby as hell!
04/25/09: Update from Nepal
Did some major shopping here! Shipped home a package of souvenirs.
Bought a knock-off North Face rain jacket for the Poon Hill trek — works like a champ.
Bought a safari-style hat for the trek and beyond.
Replaced sleep-sheet, my cheap one was too short!!
New silk harem pants. Great to sleep in, pack up tiny.
05/20/09: RTW Update from Italy
Sent another package home with souvenirs from Nepal; though super touristy Thamel has incredible bargains and neat items if you dig around.
Threw another worn out shirt away and replaced with a couple new ones from H&M. New sundress too, gave other away, it didn't fit right anymore.
Chacos smell disgusting and not responding to cleaning, but they still work fabulously besides the stinky-feet syndrome.
06/25/09: Update from Slovenia
Just bought a Western Digital external hard drive to backup photos and my computer is falling apart and sadly destined to die soon.
---
Other Packing Lists Around the Web
If you're still deep diving into the world of long-term packing, here are some other great research spots. If you appreciate the resources on A Little Adrift, please come back here when buying any of the suggestions from Amazon. I only linked to products that I actually use and recommend, and if you buy any of my recommendations through my link, then it costs you nothing extra, but I get a tiny commission. That commission helps keep this website running. :)
If there is ever anything that I can do to help, please do reach out on Facebook, Twitter, or Instagram and let's talk about how we can make your travel dream a reality.
If you've found this useful, pin it!