Last updated on September 5, 2023
Sweet glazed phyllo peaked from the glass display cases. Waves of joy flooded me at the thought of that fresh, warmed baklava hitting my tongue.
I love baklava. It's a long-term, lifelong love affair with this sweet treat.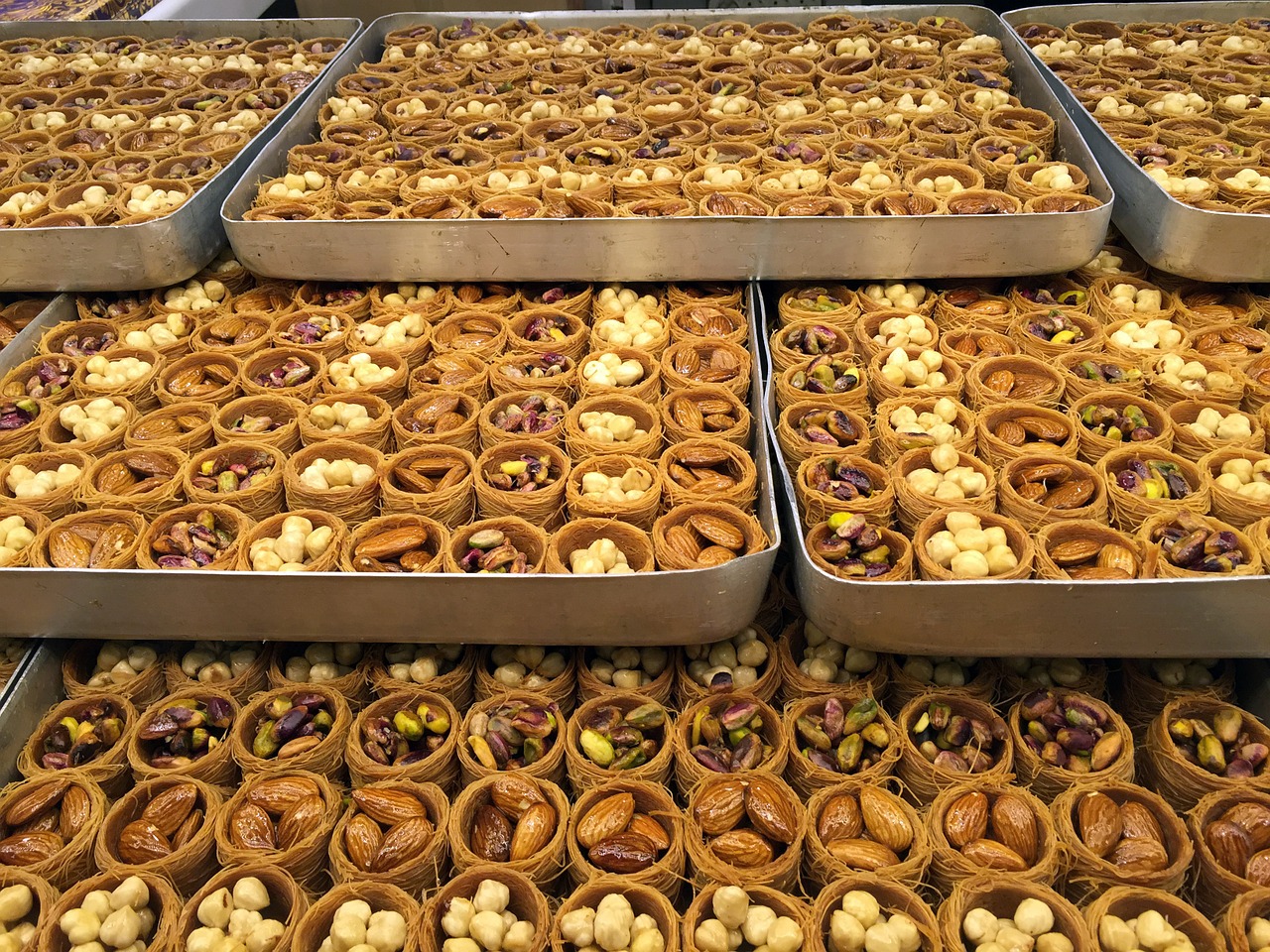 When made well, baklava has a perfect balance of sweet honey, crispy phyllo dough, and savory nuts. I grew up in a part of Florida, which boasts a massive Greek community. Just 30 minutes from my hometown, the Greek community in Tarpon Springs serves a wonderful baklava.
Growing up, my parents would take us five kids to Tarpon Springs on warm spring afternoons to enjoy the sun. The Greek community moved to Florida in the 1900s to dive for sponges, and the community flourished over the next century.
So, with a love of baklava ingrained in me since childhood, when I traveled the Balkans, I knew this classic Balkan dessert had to taste even better in this region of the world, right?
What I didn't expect was my love for baklava to help me uncover the entire range of Bosnian desserts and sweets worth trying. First let's cover the most popular Bosnian desserts to try, then learn more about my hunt through Sarajevo to find the best baklava in the city.
17 Popular Bosnian Desserts
The Balkans boasts a number of incredible desserts. Some of these Bosnian desserts are traditional desserts with origins traced to Bosnia, while others are popular across the region and are simply desserts you likely haven't tried before that you'll find while visiting Bosnia.
Baklava
Let's start with a classic. Bosnian baklava is made with layers of thin pastry filled with chopped nuts and sweetened with syrup or honey. It's a sweet masterpiece and the orginal reason I focused so much on trying different Bosnian desserts when I traveled the country..
Tufahije
Tufahije is a traditional Bosnian dessert made with stewed apples that are hollowed out and filled with a mixture of ground walnuts, sugar, and sometimes cinnamon. The apples are then cooked in a sweet syrup and topped with whipped cream or a dollop of vanilla ice cream.
This dessert is delicious and it's never made the same way somewhere else you visit. Every family and restaurant has its own guarded recipe, so it's worth sampling this dessert a couple of times on your travels.
Hurmašice
Hurmašice are small, syrup-soaked pastries popular in Bosnia during festivals and Ramadan, but also throughout they year. They're made from a soft dough flavored with lemon zest and shaped into bite-sized pieces before being baked until golden brown.
Once cooked, they're soaked in a sweet syrup, often flavored with rose or orange blossom water. You might find these offered alongside a cup of coffee, or as a dessert you can pick up and sample from a bakery.
You'll also always find them during Eid al-Fitr and Eid al-Adha.
Šampita
Šampita is a light and fluffy dessert that consists of two layers of puff pastry sandwiching a creamy filling made from whipped egg whites, sugar, and vanilla. It is usually dusted with powdered sugar and served cold.
Sirnica Pita
Bosnian pita is a savory pastry dish that can also be enjoyed as a sweet dessert. The most popular sweet variation is sirnica, which is made with layers of phyllo pastry filled with a sweetened mixture of cottage cheese, sugar, and sometimes lemon zest. It is baked until golden brown and served warm or at room temperature.
Tulumba
Tulumba is a sweet and indulgent deep-fried pastry similar to churros. It is made by piping a special dough, typically consisting of flour, water, and eggs, into hot oil, resulting in long, tube-like shapes.
After frying, the tulumba pastries are soaked in a sweet syrup, often flavored with rose or orange blossom water, which adds a delightful aroma and sweetness. They're served chilled and taste best with a scoop of ice cream if you can make that happen.
Kadaif
I have tried this tasty dessert all over the Middle East and the Balkans, and it's always a delight. It's made from shredded phyllo dough, filled with nuts and sweet syrup. It's known for its unique, crunchy texture.
The knafeh I tried in Jordan used pistachios and had a rich, delicious butteriness I still dream about, while the Turkish version I tried at a small cafe in Istanbul was too sweet for my liking, but a fascinating experience nonetheless.
The Bosnian version of this dessert is worth trying—it falls somewhere between that incredible one I tried in Jordan and the sickeningly sweet on I sampled in Istanbul. And it will likely come with some crushed pistachios sprinkled on top, which is a delight!
Additional Bosnia Desserts
Tufahija: This dessert combines poached apples with a walnut filling and a generous dollop of whipped cream. It's a perfect blend of fruity and nutty flavors.
Fruit Pita: Similar to a strudel, fruit pita is a pastry filled with seasonal fruits, sugar, and sometimes cinnamon. It's a great choice for breakfast or dessert.
Sutlijaš: Bosnian rice pudding is creamy, comforting, and flavored with vanilla and cinnamon. It's a simple yet delicious dessert.
Kompot: A popular Balkan drink/dessert made from boiled and sweetened fruits. It's a refreshing choice, especially on hot days.
Orahnjača: This is a walnut roll made from a sweet yeast dough and filled with a mixture of ground walnuts and sugar. It's often enjoyed with coffee.
Griz (Bosnian Semolina Pudding): A semolina-based cake soaked in sugar syrup and often flavored with lemon. It has a unique texture that's both moist and crumbly.
Palačinke: While not exclusive to Bosnia, these thin pancakes are a beloved dessert across the region and Eastern Europe. These crepes are usually filled with sweet fillings like Nutella, jam, or walnuts.
Rozen Kolač: A sweet, layered pastry bar made with actual rose petals. That rose flavor is softened with raspberry and lemon.
Čupavci: Small sponge cake cubes soaked in chocolate sauce and rolled in desiccated coconut. They are irresistible bite-sized delights.
Rozata: Though it has Croatian origins, you may find this caramel flan dessert in Bosnia. It's a creamy custard with a caramelized sugar topping.
Jabukovača: A type of apple strudel that showcases the delightful Bosnian apples. It's sweet, tart, and full of apple goodness.
Kroštule: While not a traditional Bosnian dessert, these fried dough twists are popular in the region and make for a crispy, sugary treat.
What's Baklava Like in Bosnia?
Instead of better, I found the Balkan desserts different than I had anticipated. In fact, very different.
Much like American Italian and Mexican foods take liberties with the dishes, the baklava sampled while traveling in Bosnia ranged in texture and flavors.
On my first day wandering the cafes and tiny streets around Stari Grad (Old Town) in Sarajevo, I happened upon a small dessert café, Baklava Shop Sarajevo. Of the large selection, three types of baklava beckoned to me through the dessert case and begged me to wrap my taste buds around the honey-sweet concoction.
While traveling through Italy the month before, my friends and I ate our weight in gelato—all in the name of research. In Bosnia, I continued with that motto and ordered one of each dessert so that I could conduct a taste test.
The baklava in this taste test: Bosnian, Sarajevsko, and Greek.
Paired with a strong Bosnian coffee for the true traditional experience, I settled into my task.
Each type takes a different approach to the dessert recipe and the combination of ingredients. Compared to my expectations from a history of eating the Greek versions near my hometown, these three baklava featured more sweet honeyed syrup—it dripped from the baklava, and in some cases over-saturated the phyllo.
Of the three, I mowed down on the Sarajevsko baklava—it had flakier phyllo and a strong dose of nuts packed into the middle.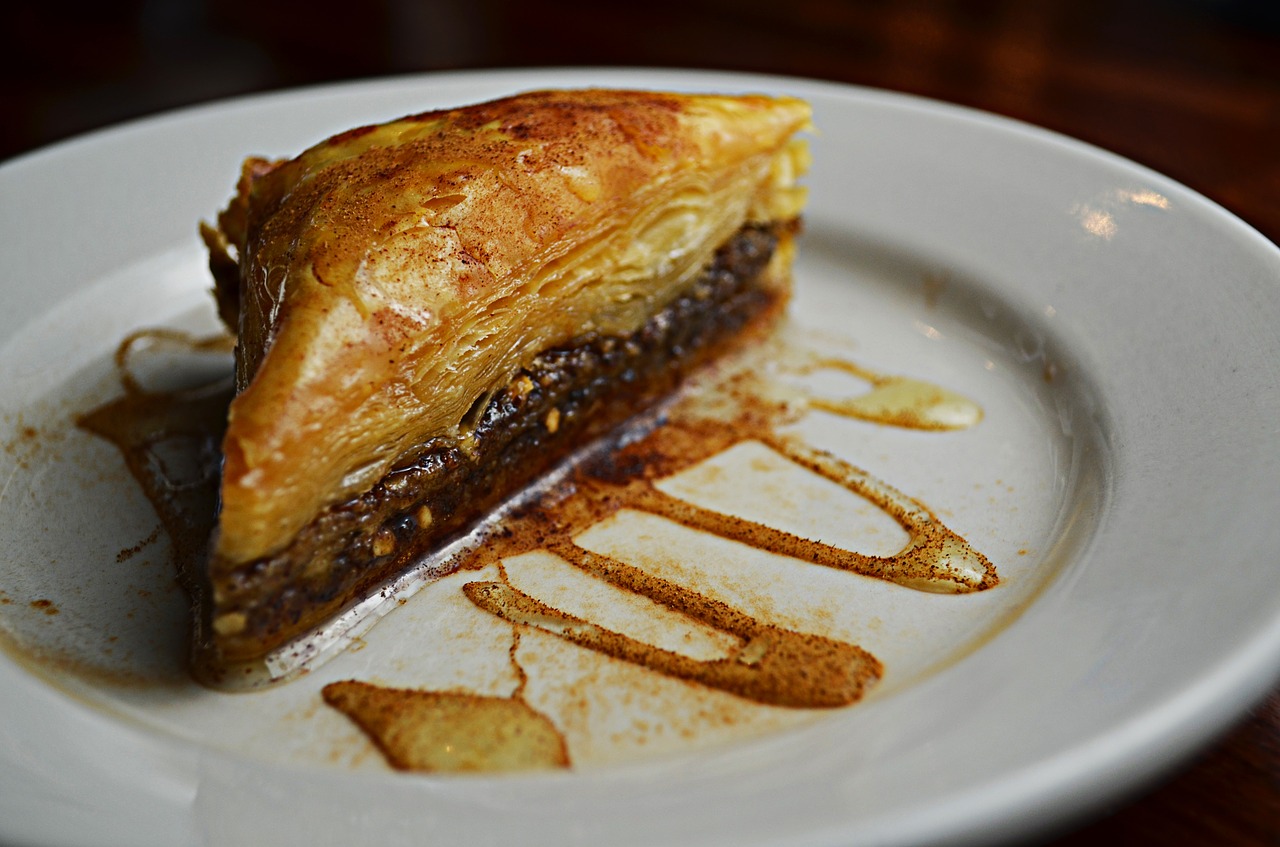 A DIY Baklava Tasting Around Sarajevo
But one shop does not constitute a true taste test, so I continued to eat my way around Sarajevo and then Mostar, always ordering whichever versions they offered on the menu. It was a delightful mission for my time in Bosnia.
After nearly eight months on the road, I enjoy small missions to help discover a new side to each city. The baklava mission brought me to unexpected cafes and shops, and into interesting conversations with locals—I had something simple and specific to ask each new person I encountered along the way.
Sarajevo a treasure I found along my mission: Badem (address: Abadžiluk 12), a specialty shop selling bulk bins of nuts, candies, and spices. This store proved so delightful, and the conversation with the shopkeeper so fun, that I arranged my final hours passing through Bosnia (en route to Slovenia) so that I could visit one last time.
I upgraded my tired bag of trail mix with a few mixes from Badem, and the indulged in a bag of my new favorite snack — chocolate covered almonds heavily coated in a delicious layer of cinnamon. I highly recommending hunting down this nut shop and stocking up on treats and flavors unique to this part of the world.
Eating vegetarian in Bosnia had been a challenge. And when you couple the low understanding of vegetarian as a concept with the lack of widespread English, I often ate from the grocery store and instead stuck to the desert menu when out.
While burek is an easy meal, that only did me once a day, and I became adept at pantomiming with servers and then hoping for the best. And when my food invariably comes out smothered in meat, I've learned to take it in stride, have a good laugh, and head to the grocery store to buy my standby—a chunk of cheese and baguette, with a banana for good measure.
These past weeks traveling the Balkan States was a pleasant surprise. Bosnia is a sleeper favorite of my entire trip thus far. Few other travelers along my route had visited this part of the world, so I hadn't known what to expect.
The culture is open here and the pace of life is lovely. History suffuses the country and the people have found a delicate balance to their lives. Throughout the city, influences from this history play out across every building, shop, and even the conversations.
There's the tasty influences in the coffee and sweets, the beautiful mosques and calls to prayer, and a meshing of religions living in a harmonious-if-delicate balance.
I loved the pace of life and the beauty of the countryside. So much natural beauty and so much history in the cities. Although I am saying good-bye to Bosnia, it's more of a "see you later"—I will be back.
Where to Sample Baklava in Bosnia
Baklava Shop Sarajevo. Curciluk Veliki 56. An absolute favorite with travelers and locals alike. It's also conveniently located in Old Town, and it has a massive selection of deserts — ideal to create a sampler platter to share with friends.
Baklava Sarajbosna. Gajev Trg Bb. If there were a throw down for the best baklava in town, many would side with this shop over other. Since both are delicious, you should head to each. :)
Sac Buregdžinice. Mali Bravadziluk 2, Sarajevo. This is among the local favorite spots to sample a traditional, delicious burek — order it with yogurt for the full experience!
Make Baklava at Home
Bosnia Travel Guide
A download on everything I learned from backpacking across Bosnia—a country that challenged me on the food front, but ultimately delighted me with the welcome from locals. Here's where to go, my favorite places and everything you should know before you go to Bosnia!