Last updated on March 6, 2023
Given how popular this border crossing is, and the sheer lack of information, below I've outlined precise details on how to manage this crossing in the wake of Covid restrictions. The pandemic changed the entire process of crossing from Chetumal to destinations in Belize. And while the Covid restrictions have eased, you should still know exactly what you need to do for a smooth crossing. Far below this information is the original post, but do not assume that any information you find online is accurate unless it's been updated in 2023. Direct from shuttle drivers and readers, here's a synopsis of your options crossing the Mexico and Belize border at Chetumal in 2023. The comments at the very end of the post have even more details and travelers weighing in every single week.
The summary of post-Covid travel: You no longer need Covid tests, and neither insurance nor a Gold Standard booking are mandatory. You do still need to show proof you've paid the Mexico tourism tax or you're forced to pay it again. Read on for complete details.
Transportation Options in Belize in 2023
Ferries: There are two ferries running from Corozal. There is also a ferry from Chetumal to the Belizean islands as of January 2023—although one traveler said in the comments that it's not running, the shuttle drivers and other travelers confirm that the San Pedro Water Jet from Chetumal to/from San Pedro & Caye Caulker is running again. Their website states that they are selling fares—you can even book online. Pursue this on the ground and maybe give them a call before buying a ticket.
Boats run from Corozal to San Pedro via Thunderbolt and Belize Sea Shuttle. Using the ferry is convenient, but doesn't save you much money compared to taking a shuttle or the bus. The ferry from Corozal is the best option for solo travelers, otherwise head to Belize City and ferry from there to save money. Check the Facebook pages for these services for the latest schedules.
Bus: The chicken bus is back up and running. The chicken bus to Belize City costs around $8 USD. You'll face a longer travel day on the bus, but it's totally viable and runs roughly every hour from Corozal to Belize City. You can also catch the chicken bus from Chetumal, and it will generally wait for you at the border crossing, so long as you face no snags in getting stamped out of Mexico and into Belize.
Shuttles: Six people can share a shuttle for US $150. If you aren't traveling in a large group, the taxi drivers help travelers who are crossing at the same time share the cost of a shuttle/van transfer. Shuttles run every single day from both Bacalar and Chetumal. (Lots of travelers prefer to stay in Bacalar).
Taxi: A private taxi from the Chetumal border to Belize City costs US $150. It costs less to travel to Corozal.
Safe solo female travel: If you're a solo female traveler concerned about getting to Belize or the the islands, Alberto (listed below) has a female taxi driver that can pick you up in Playa if you need a ride for $3000 pesos each way.
Safe & Reliable Transfer Services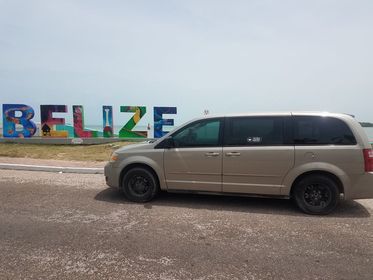 Below are also contact numbers for safe, affordable taxi transfer—these are reliable options for crossing either way (from Belize into Mexico, or vice versa). Each driver speaks English, has contacts on both sides, and can help you with advice on how to get to your ultimate destination (be it Corozal, the islands, Guatemala, or back into Mexico). Spread the love around to each as they are all very highly recommended by travelers who have come before you.
Call or WhatsApp them.
Venancio, has a van ideal for larger groups: +501-603-6711
Alberto the BZ Transporter: +501-630-2700
George from Get Transfer: +501-604-5789
Jesus Catizm, also has a van for larger groups: +501-620-6653
Call a couple if you're looking to save money—ask if they have travelers scheduled who are willing to share the transfer. Each driver will also hook you up with a trusted contact on the Mexican side of the border if needed, so you're not ripped off on the short trip.
How to Cross the Border at Chetumal in 2023
This process is outlined by one of the shuttle drivers, and cribbed from detailed comments from those who have crossed recently. Note that you should have all of the cash you need on you. That also means carrying some pesos when heading out of Mexico in case they try to make your crossing hard in exchange for a little "payment" of $200-$300 pesos. This is how the trip goes from Cancun to Belize City.
Consider taking the comfortable bus down from Cancun and stay overnight in Chetumal or Bacalar. In Chetumal, travelers have recommended Hotel Urban 101 in the city center for about$30 a night. In Bacalar, consider Hotel Xa'an for a budget backpacker spot, or Villas Ecotucan for good vibes and just a bit more money. In Chetumal, have the hotel to call a taxi in the morning to take you to the bus station/border, or arrange through trusted drivers above. Leave early—between 7:30 am and 9 am is a good bet. Book somewhere to stay in Chetumal or stay in Bacalar.
1. Get to Chetumal from Bacalar OR Get a Taxi in Chetumal to the New Border OR Catch the Chicken Bus
Your taxi will know which border you need for the crossing—it's the new border, not the old one. They are very near each other, but some guide books and blog posts will tell you to visit the old one. You can stay in Bacalar as well, and from there catch a shared taxi (opposite the ADO bus station), which takes you to Chetumal. From there you can take a chicken bus to Belize City, which is outlined above. If customs and immigration don't take too long, the chicken bus waits for you on the other side of the border, so don't pay in advance.
From a reader in Dec 2022: If you have some level of Spanish and are in Chetumal and opting for the absolute cheapest option, then go to the 'New Market' bus station and ask for the bus heading to Corozal, Belize. You'll probably have to wait for a while, but the bus will take you to the Mexican border. Then be prepared with your documents (if you've flown in and/or have stayed in Mexico for less than 7 days) to prove you do not need to pay the tax. Then the bus will take you to the Belize border—at this point you need to get your luggage off the bus, get your stamps, and then the bus will take you to your destination. It cost us $5USD per person to travel from Chetumal to Corozal.
2. Have Your Travel Documents Handy for Both Border Checks
When exiting Mexico, 90% of the time you will be asked if you have already paid the tourism tax. This is a soft scam—it's legal and its the border officials asking, so you must show proof. If you flew into the country, it was included in your airfare. Download your itemized receipt from the airline that shows this fee already paid—then screenshot it and show it to them. Many people have had to pay this "fee" even though they probably already paid it if they flew into Mexico. Be prepared ahead of time and you can avoid being charged twice! It continues to be an issue for about 15 years now. This will save you 560 Mexican pesos.
Next, your taxi will cross the bridge to the Belize Customs Control area. This is where you say goodbye to your Mexican taxi driver and pay him. You'll pay 250-500 Mexican pesos, unless you've booked a shuttle that takes you through the entire process stress free.
3. Prepare for the Belize Border Process
You'll pass through Belize Customs. To Corozal, a taxi charges roughly $35 USD per taxi, from there to San Pedro you can take water taxi at 7 AM for $50 USD or a plane at 9:30 AM or 5 PM for ~$70 USD, but the latter only during the week which, however, is not confirmed as so far travelers have opted for the boat.
4. Finish Up the Belize Border Process
The driver waits for you on the other side for you to finish the entire immigration process. From there you are free to head into Belize!
Update Jan 2023
Read through the comments at the end for the latest additional details on this border crossing. Travelers weigh in almost daily on the state of the border and offer tips on getting across without issue. Information below this is not fact-checked for accuracy.
Border Crossing Story Prior to the Pandemic (information below is not accurate for 2023 crossings)
Dear Lonely Planet,
Why have you lead me astray? You disappointed me this past week at the Mexican/Belizean border crossing. To be fair, this is the first time you've been so incredibly misguided, dear Lonely Planet: Central America —you have helped me confidently navigate uncharted waters, until now.
I love you, I nurture you, I pull you out of the depths of my bag when I'm in a pinch, yet you disappoint me at the weirdest times. You have ten different hostel accommodations for random pueblitos, but yet a mere paragraph about the fairly confusing border crossing between Mexico and Belize via Chetumal.
But also, you know, thank you. You made me realize that travel is about more than a guidebook. Without the right information, I was forced to get creative. And over the years, I've realized there's always a local nearby willing to impart the information you so coyly keep to yourself. I'm learning to rely on you less and less LP, and that's probably a good thing.
With lukewarm love,
~Shannon
My Border Crossing Debacle
The whole guidebook debate crops up on travel blogs every now and again, and I've always been on team "tote a guidebook around." I nearly always have one somewhere in my backpack, and it often provides key information at opportune times—it helps me unlock a different side to a place that I might not have found without it.
But on the other hand, guidebooks also give travelers a false sense of security as well as take out some of the adventure—and hey, travel, after all, is fundamentally about the adventure and interpersonal connections, right?
Here's the deal, when I arrived at Chetumal, Mexico, I expected the border crossing to be straightforward, like my guidebook indicated. But I arrived after 4pm and first class busses no longer left the terminal for the border.
There was also no information about what to do at that point.
Picture me now frantically flipping through the Chetumal section of my guidebook. Hmm. The barest mention of another bus terminal.
Perplexed, I looked at the accommodation section of the guidebook with two other Americans who were in the same boat—they stood nearby with the exact same guidebook.
Fast forward a few minutes and were dividing and conquering, each of us hunting down locals and taxi drivers for tips. We came up with nothing. One taxi driver (naturally) wanted us to cab to the border for US $20—instead we asked about the elusive second bus station, he gave us a noncommittal shrug and told use to walk "a couple kilometers in that direction." And being a fairly rural town, all of these exchanges took place in Spanish, upping the stakes considerably—thankfully my high school Spanish trickled back!
We actually had a grand mini adventure asking locals for more directions along the way. Rather than just following instructions mapped out in a guidebook, we were forced to hunt down a way to cross the border into Belize. Locals always kept us walking the right way, pointing us the "bus station," and when we arrived at the indicated lot, there was one single, lone, green school bus sitting forlornly in the lot.
We glanced toward it, wondering if this could possibly be the elusive second bus station. As the bus began moving out of the parking lot, our instincts kicked in and we began running across the lot just as the driver leaned out the window to holler at us. "Belize?!" he asked in a quick and questioning manner. As we frantically nodded yes, he rumbled to a stop so we could jog to the doors and haul ourselves onto the last bus of the day crossing the border.
Is this the biggest adventure of my life? No. But it sure was a lot of fun once we had we hunkered down into the seats, high-fived each other, and then jostled with the motion of the school bus all the way to the border. Once there, cash changed hands (there's a controversial and possibly scammy Mexican exit tax if you're not prepared), and I have a couple of new stamps in my good 'ole passport. Twenty minutes later, we had reached our destination and we confidently made our way into Belize without even a second glance at our guidebooks.
I'm still carrying my guidebook, and I know there are times when I will be so glad it's nearby as I make my way across Central America. In fact, it's likely that I won't go guidebook free anytime in the near future, but this reminded me of how fun and freeing it is to just wing it. The world is not so scary a place that every move needs scripting and planning beforehand, sometimes figuring it out along the way is the real adventure.
Quick Tips: Border Crossing from Chetumal, Mexico into Belize (2021)
Let me clarify this border crossing for anyone following the same path—as of 2019 there are three bus stations in Chetumal: the new bus station for ADO and first class buses, the old ADO bus station, and a smaller one that has been essentially bypassed by new bus routing in 2017, El Nuevo Mercado Lazaro Cardinez. This smaller one was a small market with an open lot in front that held the chicken buses, but unless things change, it's been effectively handicapped by the re-routing.
If you arrive late into Chetumal and you're heading into Belize, back in 2009, the only non-taxi transport was a local chicken buses from the market to take you across the border. These buses go all the way to Belize City and stop at smaller towns along the way (we got off in Corozal so that we could head to San Pedro/Caye Cualker in the morning). In the years since my first Central American backpacking adventure, things have changed, and they are likely to change even faster than internet information can keep up since it's a small border crossing. So, go prepared with information on both bus stations and be prepared to solicit information directly from the bus stations. Taxi drivers will selectively share information so you're seemingly left with no choice but a taxi to the border.
Bus Stops in Chetumal
NEW ADO terminal: Located on Av. Insugentes at Calle Palermo (close to Plaza Las Americas). This is the main ADO bus terminal for services to other destinations in Mexico, including Cancún, Campeche, Mérida, Valladolid, Xcalak, and more. You will likely arrive here and need to head to the Old ADO terminal.
OLD ADO terminal: Salvador Novo street near Av. Insurgentes and Av. Belice. Buses into Belize leave from here until at least 5:30 pm, possibly later. Buses to Corozal, Belize City, Orange Walk, and also into Guatemala.
El Nuevo Mercado Lazaro Cardinez: As of 2017, this market no longer has buses operating services into Belize. If a taxi driver takes you here and tells you that buses are finished for the day, make your way to the Old Ado terminal.
Updated travel advice
This basic wordpress site shares what has to be the most updated information about bus travel in Belize, including frequently updated information about this border crossing right here—he even updated it during the Coronavirus pandemic. The guy who updates it is also very active in the Lonely Planet Thorntree forum discussions about all things Belize. And Rome2Rio shows regularly updated transportation advice for this passage as well.
Ferry Options to Caye Caulker or San Pedro: If you're up for it, there is a great water taxi transfer from Chetumal to Caye Caulker or San Pedro. You'll have to arrive and catch the last one by 3pm, so if you do arrive in time, it's a great option.
Paying the FMM / Mexican Exit Fee: I have read that there is now a bit of a shakedown at this border, at times. If you arrived by air and are leaving by land, paying this fee gets complicated. Here is the best rundown you'll find online, and this blogger shares their experience in 2014—note that their bus information is wrong, but their advice on the FMM is good to know.
Onward from the border. Stay the night in Corozal, the closest town to the border, if you've made one of the last crossings of the day (this is what I did and then headed by water taxi to San Pedro). Alternately, head to the main bus station (if your bus is not one already heading to Belize city). Southbound buses to Belize City take about four hours and depart from Corozal roughly every half hour from 3 am to 7:15 pm.
If you're heading through Belize into Guatemala, I wrote an extensive guide to exploring Tikal, and my Guatemala Travel Guide offers free online advice on the best things to do, see, eat, and insider tips on how to navigate the country.
The Mayan ruins of Tikal are a bus ride or shuttle away over the border into Tikal. Here's how to make the most of this UNESCO World Heritage Site.