Last updated on May 3, 2017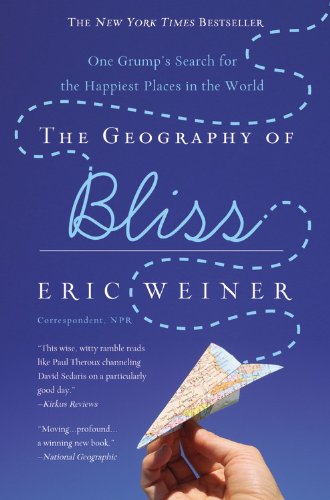 This has been on my Kindle for at least a year and I have no idea why I waited to read it. When I started my 52 Book in 2016, I made sure The Geography of Bliss by Eric Weiner was among the first I read. It's a fantastic book. Even more, I read it simultaneously with Man's Search for Meaning, by Viktor Frankl. Both books heavily touch on the idea of happiness and how find it in our own lives. Between the two, it was interesting to compare their experiences and happiness research. Weiner's book, specifically, focuses on how cultures and nations create and experience happiness. Frankl on the other hand looks at happiness through the byproduct of creating meaning in one's life. Together, the two perspectives were fascinating.
One of the core conclusions of The Geography of Bliss, one that he builds a case behind throughout, is that happiness does not correspond to those things you would assume. In fact, cultural diversity nor social equality could predict or create higher levels of happiness. Each of the happy countries profiled had their own quirks. The happiness was subjective; what made one culture happy was often the exact reverse in the next happy country studied.
And if the happiness thread isn't enough, it's a fascinating tour of the world too. I haven't visit many of the places he visits: Iceland, Switzerland, Bhutan, nor Moldova, and I found the book a wonderful trip through these cultures. I read a lot of travel memoir, and I found this refreshing because of the happiness through-line in each place. Although Weiner is on a journey himself, as a former NPR journalist, he is also great at weaving together the threads that do not include his personal narrative.
A couple of parts I enjoyed in the book:
"Humans, even nomadic ones, need a sense of home. Home need not be one place or any place at all, but every home has two essential elements: a sense of community and, even more important, a history." Now fully into my eighth year of travel, this sentiment struck a chord. It's been a long time since I've had a strong sense of home. I spent 2015 trying on homes, looking for a place that had a community and that also pulled me to set up shop. I've stopped in Oaxaca for six months as I continue thinking about what settling look like. I know it unsettles me deep in my brain to never have a landing spot I can call home. It's intriguing that Weiner found this a core element of happiness in many cultures.
"Part of positive psychology is about being positive, but sometimes laughter and clowns are not appropriate. Some people don't want to be happy, and that's okay. They want meaningful lives, and those are not always the same as happy lives." Intriguing distinction. I have found great sadness in my volunteer work. Encountering suffering, and facing cruelty in the world, doesn't bring me happiness. But  it's only by working for change that I have brought depth and meaning to my life. Weiner and Frankl seem to agree that meaning might be the most important part of feeling a life well-lived.
I enjoyed Weiner's book enough that I've marked his follow-up, The Geography of Genius, as another I will read this year. He offers a refreshing, nuanced take on happiness that I am keen to continued mulling over his insights on most anything. I've read several great book in the past three months, but this is one I think most anyone who loves traveling would deeply enjoy. That's why I've reviewed it for a giveaway this month. If you're keen to read it, you can find the book on Amazon.
Book Giveaway
I offered a free copy of The Geography of Bliss to newsletter subscribers and readers.
Bonus entry question:
Tell me your next travel plans and I'll give you an extra entry! :)
And I'd be thankful if you shared this post, liked the ALA Facebook page, or supported the site in some way too.
Read my past travel book reviews, or browse my selection of the best books about countries around the world. And read my reviews policy and disclaimer. Although I occasionally allow a company or author to host a giveaway, this month it's just me. :)