My heart pattered with fear when I touched down in Sydney way back in 2008. That was the first day of my yearlong round the world trip. With very little information online about long-term travel back then, I set out to document my trip, but also share all the practical details, too. For nearly a decade, I have used this page to share all the nitty gritty details of planning world travel and working from the road. And while I traveled solo for the bulk of that first year, since then I've traveled and volunteered with friends, family, and even my tween-aged niece. On this page you will find what I think of as my Ultimate World Travel Planning Resource. It answers every reader question I've fielded over the years, and also everything I've figured out through trial and error.
Over time, this page grew too large to house all the information in one spot. While you used to be able to sit down with a cup o' joe and read from top to bottom, once it hit 20,000 words, I broke out the larger topics into their own discussion pages. Use the Table of Contents below to navigate by topic. Any sections that needed a full discussion link to a separate page, so bookmark this page for reference!
Dreaming of Travel: Make the decision to travel and effective ways to save.
Budgeting & Money: The cost of long-term travel, how to budget for your trip, and how to use cash, credit, and debt cards.
Pre-Trip Planning: Cultural research, planning destinations, picking a route around the world, visas, and homeschooling.
Flights & Accommodation: How to find affordable flights, accommodation, and RTW tickets.
Packing & Backpacks: Full packing list, how to pick the right backpack, best purses and daypacks.
Tech & Cameras: Best travel camera system, an ergonomic travel system, and how to pick the right electronics.
Insurance: Gear & Personal: How to pick insurance for you and your travel gear.
Health & Sickness: How to stay healthy, vaccinations, handling your period on the road.
Responsible Travel: Resources to support social enterprises, limit your footprint, and volunteer.
Handle the Practicalities: Deal with your mail, taxes, and how to purge your belongings.
Life on the Road: Advice for solo travelers, eating safely, staying occupied, and combating travel fatigue and loneliness.
Work & Travel: Resources to become a freelancer, digital nomad advice, and the basics of starting a travel blog.
Dreaming of Travel
I have dreamed of travel since I was young and paged through National Geographic magazines. And yet I struggled to understand how some like me — someone in debt, with no savings, and from a poor family — could travel. When I decided to travel in 2008, I found a balance between my internal struggles and my dreams. In fact, it's the struggles and obstacles along the way that helped me overcome the fear of setting off solo. And I am fortunate that I came to this place in my life in my mid-twenties, when I had the lack of responsibilities, the time, the willingness to "rough it," and just enough chutzpah to justify leaving behind my friends and family.
How to Decide You Should Take a RTW Trip
In the final hours before the first flight of my round the world trip, one question repeated in my head: What if this is the wrong choice? I had packed up my life in Los Angeles, sold most of my possessions, and was about to leave on a yearlong solo trip around the world. Plagued by uncertainty, I burst into tears and cried on my best friends shoulder. The prospect of solo travel was part of it, but even more, I feared that I was making a mistake. That it was the wrong direction for my life. An entire year without friends and family, it would surely derail my career, and what if I didn't enjoy being on the road.
The fact is, there are few clearcut right and wrong decisions. Instead, life is a series of decisions that move us either toward or away from our dreams. I dried my tears and boarded that first flight because my yearlong round the world trip moved me in the direction of my dreams. Chances are, some form of travel is your dream, too. So take a deep breath, and know that there isn't bad decision unless it's made from a place of fear.
How to Save Money for Travel
How to save for travel is a frequently asked question without an easy answer. We all have different skills, different existing monetary commitments, and varied priorities. That said, after nearly a decade of traveling, and almost as long writing about personal finance, there are clear steps for anyone beginning a savings journey. The How to Save for Travel and Tackle Your Debt pages have comprehensive advice, but here are a handful of quick actions to get started.
6 Quick Tips for Saving Money So You Can Hit the Road
Open a separate savings account. Keep your new travel fund separate from all of your other accounts: day-to-day expenses, emergency fund, Christmas money, etc. Designate a travel account and directly deposit into this account any new money that generate.
Purge. Jumpstart your savings process by purging the many things you have accumulated over the years. Dig out anything stored in corners and under beds. A lifetime of living accumulates stuff. Then, hold a garage sale, use Craigslist, or sell items on eBay. Not only will you need to purge items before long-term travel, purging gives you a jolt of cash and action, which helps maintain the motivation to continue saving no matter your savings timeline (be it months or years). The How to Purge and Declutter page offers extensive and detailed strategies and advice.
Cut your spending. Halving your superfluous spending by 50%. Anyone suggesting a more drastic cut has clearly never committed to a long-term goal. Assess your current spending habits, and then look for compromises that do not overly impact your lifestyle. If you begin cutting everything you enjoy, you will eventually stop saving altogether. Instead look for moderation. Trade the mentality of "okay, I should never eat out again" with "I should eat out half as much each month." Decrease non-essential expenses and then make a weekly transfer of your savings into your dedicated travel savings account.
Assess your debt. Debt is a burden and a clear obstacle to travel. Worse, however, is that many people aren't sure exactly where they hold debt and how much. Without clarity on the extent of your debt and a clear debt reduction plan, you may never make your dream round the world trip. And the thing is, you may not have to eliminate your debt before travel, you instead need a clear understanding of it and a plan. Student loan debt is a very different beast than a defaulted credit card payment. I cleared my credit card debt before leaving, but paid off my student loan for the first three years on the road — I had budgeted that monthly payment into my anticipated travel budget. The Tackle Your Debt page offers comprehensive advice to create an action plan for reducing debt so that you can effectively save for travel.
Increase your income. If you have a job that comfortably floats your expenses, then consider adding on a part-time job or freelance work. Side hustles are gaining in popularity and this is a great topic to research. How to Work and Travel covers all the resources and advice I've discovered from well over a decade working online.
Stay focused and motivated. Don't give up, some people have a situation that allows them to save up a large sum in just a handful of months (often those who can move in with parents for a while), and others will need to take several years of slow and incremental savings, figure out what camp you are in and then stick to it. Allow yourself splurges in your life, but never from your travel savings account!
Learn what you don't already know. Information is available in dozens of ways from dozens of sources. You can master personal finance and saving money with time and effort. While there are many free resources, I created a comprehensive treatise on the topics of saving and budgeting for travel. How to Save for World Travel is available on Amazon Kindle and there is nothing else like it on the internet. Instead of general finance and savings advice, this guide is laser-focused on offering solid, practical advice to specifically create enough savings to travel.
---
Budgeting & Money
How Much Should You Budget for RTW Travel?
Creating an accurate anticipated budget for your round the world trip is an important step — you certainly don't want to plan for a year but run out of funds in month eight! Each person has different goals, a unique planned route, and differing travel styles. These factors can create significant differences in the total cost of a round the world trip. My round the world trip visited 15 countries over 11 months and my expenses totaled out at roughly USD $19,000.
3 Primary Factors Affecting the Cost of RTW Travel
Your Route and Speed Around the World: This is the single biggest indicator of how much you will spend. To lower costs you will need to travel slowly overland and minimize the number of flights that you take. Also, consider visiting fewer places. Every travel dreamer over-packs their round the world route. That's the dream list, but unless you have unlimited funds, then you should scale back the number of regions/countries that you will visit. When I first planned my trip, a long-term traveler advised me to cut five countries from my itinerary. Looking back now, I can't even imagine where they would have fit! It's my route and speed that allowed me to travel for under $20K.
Which Countries You Visit: If you add in developed countries like Europe, Japan, Australia, and the United States, your daily budget will double. Instead of spending $25 per day in SEA and India, you will average $75 to $100 per day in most developed countries. For that reason, weight your trip in favor of developing regions of the world. Save Europe or the U.S. for a shorter trip later in life, and add a few off-beat locations to your planned route — these are most often the sleeper-favorites by the end of your RTW trip.
Eat Local Food, Street Foods, and Shop in Markets: How you eat on your travels impacts your bottom line. Eat locally from mom and pop restaurants, and sample eats from street food stalls. Contrary to many assumptions from first glance, these locations are perfectly safe so long as you adhere to a few standard food safety practices. (Read How to Eat Street Food Without Getting Sick, and buy the Food Traveler's Handbook to learn even more about safely enjoying street eats). Local food is a window into the culture, so dig deep and eat like the locals, asking the vendors questions and learning more about each country's food peculiarities. Also, when traveling in Western countries, shop for groceries and prepare your own breakfast at the very least.
How to Determine Your RTW Trip Budget
When I left to travel in 2008, there was woefully little information online about the costs of long-term travel. Over the years, many travelers now share budget and expenses reports from every corner of this globe. Use these trip budgets as research and inspiration for determining your own anticipated trip budget.
These budgets and guides give clear examples of how travelers can truly spend on average $50 per day on average to travel the world. And using the tips above, you can lower these figures even more, if needed. You could likely travel with as little as US $12,000 per year if you stick to one region — overland for a year from Mexico to Argentina; or overland through China, Southeast Asia and India. The price of a budget trip jumps to US $25,000 to visit many regions rapidly. If you prefer mid-range accommodations, that might increase your expenses by $10,000; same goes if you're prone to splurging on expensive extras like helicopter rides, diving, and adventure activities. The bottom line: You have to understand your route, travel style, and goals before you can develop an accurate anticipated budget for travel.
Handling Money for Travel: Credit, Debit, & Cash
Which credit and debit cards you bring on your trip can dramatically impact your budget, and the level of hassle you have around money. And while some travelers know they should look into travel cards, I've met travelers who hadn't realized that they had options beyond their usual bank. In fact, there are many options, and which combination of cards you bring largely depends on where in the world you're traveling, if you're solo or a couple, and if you're travel hacking along the way.
Five Considerations to Pick the Right Debit and Credit Card:
Transaction Fees. Many credit card companies tack on a 1% to 3% foreign transaction fee to the total price of what you buy. For long-term travelers, this is a clear no-go. Luckily, you have options to circumvent these fees if you research ahead of time.
Withdrawal Fees. ATMs the world over, charge a fee to withdraw cash from an out-of-network bank. Beyond that, many banks charge a withdrawal fee, too. That means that once you are on the road, you might be hit with two fees just to withdrawal cash from your bank account. Research your bank fees, and know that one bank card in the U.S. (Schwab) not only waives any withdrawal fees, but the bank reimburses your account for any foreign withdrawal fees too. Only by research your current bank cards fees can you determine if you should shop around for a travel-friendly bank account.
Are any countries blocked? Believe it or not, you might not be able to withdraw any cash in some countries. Often smaller credit unions will flag and ban a handful of countries for "high probability of fraudulent activity." This happened twice on my RTW trip, and I know carry two separate bank cards to circumvent it.
Online Banking. Can you access your account balance abroad, and even more, can you handle issues from overseas.? Some banks demand your personal presence to replace a lost card; other time only ship to the address on file. Basically, you want a bank that can handle remote support in case you need assistance from abroad.
Carry different brands. Visa and MasterCard are the most widely accepted cards and you need to carry one of each type of card. As strange as it sounds, some countries primarily accept just one of the two brands.
In addition to ensuring my bank and credit cards cover these five areas, I also added my father to my bank account in case surprising issues crop up (and they have over the years). If you have a trusted family member or friend, consider allowing them to work on your behalf, if necessary.
Travel Hacking Suggestions & Ideas
If you're new to the idea of travel hacking, it boils down to this: earning reward miles and points that you can then exchange for free travel. The majority of this activity centers on the U.S. market, where the U.S. credit card companies offer deals and incentives for those willing to use credit cards and generally chase down special offers.
I am not an expert travel hacker by any stretch of the imagination so I won't get into specific tips and advice of how to travel hack. I will just note that even if you approach it lightly, it can be an effective way to offset a few travel expenses.
If you have a long timeline before you leave on your trip, look into the travel rewards cards so you can accumulate points throughout your daily life as you plan and save for your trip. Even with just a light amount of travel hacking it's easy to offset at least a few plane flights or hotel nights. I have the Chase Sapphire card and I used my initial rewards bonus — plus a year of using the card for daily life — to completely covered the $1,200 flight to Africa. That's not an insignificant sum. And that was light travel hacking. The Chase Sapphire Rewards card is an even better deal and has many devotees in the travel hacking crowd.
The authorities on this topic include:
If you are in debt, however, consider travel hacking as an option only once you have that situation under control.
When Should You Carry Cash?
Most developing countries operate on cash economies. Although credit cards are essential in a pinch and work for booking flights, you will spend most of your money in cash. That's why it's so important to find a bank that does not charge withdrawal fees. I recommend Schwab banking (and I make no money if you take my recommendation, it is just clearly the best bank for travelers). When you withdraw cash overseas, the ATM will charge a fee (and these average $5 per withdrawal in many parts of the world), and all of the mainstream banks charge an additional fee ($2 to $5). On a long trip, that additional and ongoing expense adds up! Here are a few of my other ideas for using cash on your travels.
Carry a safety $100 dollars in USD. Although you could use Euros or pounds, the USD is a strong secondary currency in many locations. When I traveled with my niece, I carried $175 dollars as our "just in case" fund, and I always stored it in a different spot than my credit and debit cards. This cash works in a variety of circumstances: if the local ATM is broken, if you need to bribe your way out of a situation, if you're injured and need to pay for immediate assistance, if your wallet is stolen, etc.
Withdraw a four to seven days worth of local currency at a time. You want enough cash to get you through the next few days, but not enough that you're out of money if you're robbed. By withdrawing a few days at a time, you ensure that a broken ATM or an unexpected emergency is easily handled.
Do not exchange money, withdraw from an ATM. When you arrive at the airport, steer far clear of the exchange booths and instead hit up the ATM. I use the XE.com currency app so that I always know the local exchange rate, or you can usually be certain that the bottom right withdrawal option is for an amount between $80 and $200.
Keep cash in multiple spots. Consider keeping your cash in at least two spots. And if you are traveling as a couple, split credit cards and cash between you both. I always shove two twenties somewhere in a hidden luggage compartment, or I will put it in a bag with dirty socks and underwear if I am in a very sketchy hotel situation. Another tactic is to carry a muggers wallet with a day's worth of cash. My primary wallet is often in my purse too, but I would first hand over the daily wallet (usually a small zip pouch) — friends have successfully used this tactic when mugged in South America.
---
Pre-Trip Planning
The planning stage of travel is overwhelming at best, intensely stressful at worst. I've been there—I had a panic attack three-days before I left to travel for a year due to the overwhelm and stress. This is everything I wish I had known before I left, here, for you.
Cultural Research and Travel Inspiration
Reading is among my favorite past-times. In fact, I read two to five books a week, and many are within the travel genre. In addition to inspirational travel reads, I am passionate about reading country-specific books before visiting that location. Before every trip, I seek out local authors, memoirs, biographies, and histories. These books lend context to a country's past struggles, and celebrate the culture's most interesting aspects. They also give a slice of life window into aspects of a place that may be unaccessible even once I arrive. For that reason, this website contains hundreds of book recommendations from general to country specific. Each Travel Guide contains reading for that specific country, and this Best Travel Books page contains a full breakdown of great books from around the world, separated by country and region. The list below represents some of my favorite travel reads over the years, across all genres.
Plan Your Destinations and Route Around the World
For the inspiration phase of planning, browse my page with a thorough list of the best travel books sorted by destination, or search for long-reads and podcast recommendations on the Destination Travel Guides. Use these books and resources to find inspiration of not only places to add to your round the world route, but activities too. If you read of a rich coffee heritage in one part of the world, it made lead you on a coffee farming tour of Central America.
Once you have a list of destinations you'd like to visit, then you need to plot your route around the world. How granularly you plan is personal — some travelers leave with a precise list of destinations and timelines, while others plan the first couple of months. If you're planning a route around the world, these are the primary considerations:
Pick one direction for your round the world trip. From your home country, you will then travel either east to west, or west to east around the world. Backtracking is not ideal — it's expensive, causes more jet lag, and is bad for the environment. Use this strategy whether you use a round the world ticket (which requires this stipulation) or if you book flights as you travel.
Find creative overland routes. Local transportation is more fun than flying — you'll see more of the country and culture, and you'll have richer travel experiences. On your route, visit clusters of bordering countries, which allows you to easily cross overland among the destinations. For that to work, however, check visa restrictions for your nationality as some countries require visas in advance, or don't allow crossings at certain borders. Popular routes (backpacking around Southeast Asia, for example), have only a few restrictions and those are easily handled online or in the days before your border crossing.
Fulfill your bucket list. This is your opportunity to plough through your bucket list. You can add the places and activities you've only dreamed of experiencing. Perhaps it's bungee jumping in New Zealand, hiking in the Himalayas, or learning Spanish in Guatemala. Pick experiences that excite you and plot them on a map — this step will easily add shape and depth to your planned route.
Research festivals. Amazingly full of life and people, festivals and local celebrations are incredible. It's a huge letdown when you learn too late that you missed a major religious and celebratory festival by just a few days. Plan your route to coincide with these dates, and then book accommodation early depending on the event. Here are a few favorite annual festivals that many travelers plan around: La Tomatina in Spain in late August; Holi the Festival of Colors in India around early March; and Thailand's Songkran Water Festival often falls within April.
Plan around the weather trends. I planned my trip to chase summer around the world. As a native Floridian, my tolerance for heat is higher than most others, and I enjoy warmth. A year of summer was lovely. On your trip, research destinations ahead of time and plan according to your own weather preferences. While it's not likely you will hit every destination in your preferred season, you should know when monsoon season makes the islands un-enjoyable, or when blizzards will thwart a planned ski trip. To jumpstart your research, my friends compiled an amazing chart of the weather trends across South and Southeast Asia.
Consider how you will fly. The next section covers flights in-depth, as does this page comparing the cost of round the world tickets. When planning your route, however, it's more than just the major long-haul flights. On my travels, I research local budget airlines too, and I always have a good idea of which regions of the world offer affordable puddle-jumpers. Southeast has AirAsia and Vietjet, among others. Europe has many budget carriers, RyanAir, Monarch. EasyJet and JetStar operate in various regions. By checking for budget airline routes, I know that I can visit more countries in a region if there are sub $100 flights around the area. (Tip: this is an ah-mazing list of low-cost airline routes).
There is no wrong way to plan your route around the world. On your trip, you will love some places, feel mediocre toward others, and perhaps even leave early from a few. You won't know until you set out which type of places and experiences best fit your long-term travel style. The pace of short-term travels is very different from a multi-month trip. Create a route that travels slowly, avoids the dreaded travel-fatigue, and includes destinations you have long dreamed of visiting.
If you're overwhelmed about planning the nitty-gritty details on a months-long trip, know that a rough route suffices, and then you just need to handle your logistics for the first couple of week — you will sort out the rest on the road. Moving between countries and regions was infinitely easier than I had anticipated before my first round the world.
Visas for Long-Term Travelers
Research the visa situation of each and every location on your planned route round the world. Every country on earth has different visa requirements depending on your nationality, and even depending on how you plan to enter the country (at an airport or an overland border crossing). Research not only the entry requirements, but the length of that visa, the price, and any other stipulations. While some countries offer free visas on arrival for tourists, other visas can cost $200 or more. Also, if you plan to visit one region for several months, make sure that the government offers a visa to fit that situation.
For fellow U.S. passport-holders, the government offers visas and travel warnings for every country in the world — use this as a launching point. Use that as the base of information, and then verify details with the embassy or consulate site for your destinations.
Three most common visa situations:
visa on arrival generally, or at a specific border-crossing or airport
visa by application at any embassy before you arrive
visa by application only within your home country
On many long-term trips, you will get the visas for your upcoming countries at an embassy somewhere out there in the world. You can apply for your Indian visa at the consulate in Bangkok, or apply for your Australian visa online a few days before you leave. Some visas expire within months or a year, so you need to plan around having access to embassies or consulates for certain locations on your route. Also, for several places in the "Stans" and Russia, visa policies are strict — for example, it is next to impossible to apply for a Russian visa outside your home country. These stipulations may affect the destinations you ultimately visit, or the order of destinations on your route around the world.
Keep in mind:
In most cases, you must have 6+ months of validity left on your own passport to qualify for a visa.
In most cases, you must have at least two blank pages left in your passport or officials will not issue the full-page visa stickers (which is all some countries offer).
You must adhere to the strict specifications on the length of time your visa visit allows you to stay in the country, otherwise you may face either fines, or serious more consequences.
If you lose your passport, you also generally lose the validity on those visas, too. Transferring long-term visas is often a hassle, if it's even an option.
You may need to prove proof of onward travel before you can enter a country (an outbound flight or bus ticket, for example).
Homeschooling
While I am far from the homeschooling authority, I did homeschool my niece for a year and a half. We traveled for months across Southeast Asia, venturing in and out of countries and communities. Along the way, she finished the sixth grade with honors, and had progressed half-way through the seventh grade when we returned to Florida. Over the years, other traveling parents emailed me with questions about how to take their school-age kids on a long-term trip.
Non-secular information on how to homeschool while traveling is scarce, so my homeschooling resource page shares information we learned about schooling on the road, as well as the information from around the web related to unschooling, homeschooling, and educating youngsters from the road.
My Round the World Trip
My original trip around the world last 11 months and began this wild, wonderful life of travel. After nearly nine years, I am still on the road. While the entire website is now chock full of tips, stories, and advice from these years of travel, within the site I have still documented that first year around the world. I was fresh-faced, naïve, and full of hope for what I would find on the road. It was more than I could have expected.
Here's a closer look at my yearlong round the world trip.
In the years since my round the world trip, I continue to travel while also speaking to students at universities around the world — this is my passion. I enjoy sharing travel with others and encouraging travelers to become responsible tourists. While this website continues to share travel guides and stories from my travels, it also highlights social enterprises and business around the world with inspiring missions to use tourism for good. Additionally, I founded GrassrootsVolunteering.org, a sister-site to ALA, to specifically highlight business worth supporting during your travels.
---
Flights & Accommodation
Booking flights and accommodation comprise the bulk of my destination research. Although I love knowing possible activities, and I always research the culture through reading travel books too, most of the time I extensively research guesthouses and hostels to find a good base for my wanders. And on the flight front, it's always worth my time to compare booking sites and dates — simple hacks can shave hundreds off the price of your flights.

Accommodation: Hotels, Hostels, or Guesthouses?
Your style of accommodation will entirely depend on your style of location in general, and in that specific location. Although I used dorm beds at hostels on my round the world trip, in the years since I more often tend toward budget guesthouses or private rooms in hostels. Which I choose, and if I instead use apartment rental sites, depends on the rates for accommodation where I am traveling. There are many options for every style of travel. The Travel Accommodation 101 page explains each type of accommodation — what is it like, who should use it, and where is it offered — and which booking engines I prefer. For now, here are the considerations depending on your travel budget and style.
My Research Process:
Check Google and search friends' websites. Search for general reviews of your style of accommodation in that price range. I look for personal reviews and recommendations on travel blogs (noting whether the blogger received a comped stay, or if they paid for it). My friends Victoria and Steve from Bridges and Balloons do a great job of listing and reviewing their special stays in each new place.
Check my guidebook and note which locations sound interesting and centrally located. I almost exclusively use Lonely Planet guidebooks — I like the layout, the extensive transportation sections, and the jumpstart accommodation recommendations provides. It's safe to say I own one of these guidebooks for each of the 60+ countries I have visited.
Compile the list and then check each location's reviews on Agoda, Hostelworld, and Booking.com. With a list of names and ideas, then I look for ratings and reviews on each of the sites. I check reviews for comments about the speed of wifi (and if it's available in the rooms, or just in the lobby), comfort of the beds, and levels of noise. Unlike guidebooks, these online booking engines will have reviews sometimes just days or weeks old — ensuring you have a better idea of what it's like.
Compare what I find to listings and prices on Airbnb. While guesthouses and hotels are sometimes more convenient than apartment rentals, occasionally an Airbnb offers a better value of space, function, and amenities. If I am not craving the social interaction of a hostel, I will usually rent an Airbnb to better enjoy a local neighborhood and privacy.
Pick the one that has the best combination of amenities, location, and price.
Recommended Companies & Booking Sites:
How to Find a Great Deal on Your Flights
Finding flights is among the more stressful aspects of planning travel. When you press purchase on that flight, it represents not only your trip, but hundreds of dollars, too. There is no fool-proof way to ensure that you always find the lowest fare, but there are certainly tactics and opportunities to lower your total airfare on any trip, and particularly during long-term travel. Of note, if you're debating about booking a round the world ticket for your upcoming trip, Round the World Tickets: A Cost Comparison delves into the issue with heaps of resources and ideas.
3 Tips to Find Better Flights
Fly on a Tuesday or Wednesday. Since most travelers leave on the weekends, including business travelers, mid-week travel is often steeply discounted. At least 80% of my flights these past eight years have left mid-week. The other times I search for Saturday evenings flights, or off-peak times. If you're scheduling time off of work and you're on a budget, see what it would take to leave mid-week instead of on a weekend.
Use the "flex days" search feature. Kayak and other booking sites allow you to search for a set date, and then "+/-" up to three days. Then the results will show a fare calendar of which dates are the most affordable for your planned route.
Fly to a hub and then take a budget airline or overland transport. Check hub airports near your destination for the best international flight routes. When I fly to Chiang Mai, Thailand, I often book my flights into Bangkok and then I separately book the train or a one of the many budget airlines in the region — this tactic requires an extra step of checking in for another flight, but it usually shaves hundreds of dollars (and many hours) from my flights.
My Research Process:
Identify the primary "hub" airports near my destination, then select a mid-week, flexible date to begin the research.
Input date and hub airports into Kayak, then use the flexible date feature to view a grid of the fares for that week.
Repeat the process using Skyscanner (which also searches budget carriers), the search within my rewards cards program (I use Chase and have found amazing deals in the Chase search engine), and then if it's a multi-stop journey I plug the dates into Indie from Bootsnall (which often finds alternative routes and fares combining differing airlines on each leg of the journey).
I spend at least 20 minutes playing with the dates and potential airports, then I select the best flight and go to that airline's website and research that exact time and flight — compare to see if the airline is offering it for cheaper.
Use Google Fare Calendar to research that flight time again, and see if now is a historically good time to book the flight, or if you should wait a bit longer before booking. Seasonal changes in flight prices can seriously impact your fare.
If I have found a fare that seems seasonally appropriate and hits the date and time that I need, then I book immediately so that the fare won't increase while I sleep on it. You have 24 hours in the U.S. to cancel any flight, so it pays to trust your research and book the flight.
Flight Search Engines:
Kayak: I usually start here for my flight searches to get a baseline on the costs, then I move on to the search engine that pull in some of the low-cost carriers.
Skyscanner: Use this as your first source for booking flights to or within Asia; the search engine pulls in a lot of the low-cost airlines too and can offer up some great fares you won't find on the other aggregators.
Orbitz: I have been surprised by some of the great flights I find on here leaving from the US, particularly if you book in advance and have some of the major hub cities as stopping points.
Google Flights: You know it's good if it's from Google, the king of search. This is a nice place to get a baseline for price estimates at the time of year you'll be traveling.
Indie from Bootsnall: While generally a round the world flights finder, it works well to research for any multi-stop journey.
Adioso and BookingBuddy: These two are not in my regular lineup of research sites, but several of my travel friends swear by them for flight research.
Matrix.itasoftware.com: Access to the backend that many travel agents use to find flight deals. It's not in my regular lineup, but I always have this one in my back pocket.
Research online: I found many tiny airlines in Africa that are not listed in any aggregator, so checking a guidebook or online for local low-cost airlines in some regions is a good idea.
Amazing List of Low-Cost Flight Routes: This is a google map with flight routes all the world's low-cost airlines fly.
---
Packing and Backpacks
Packing Lists and Ideas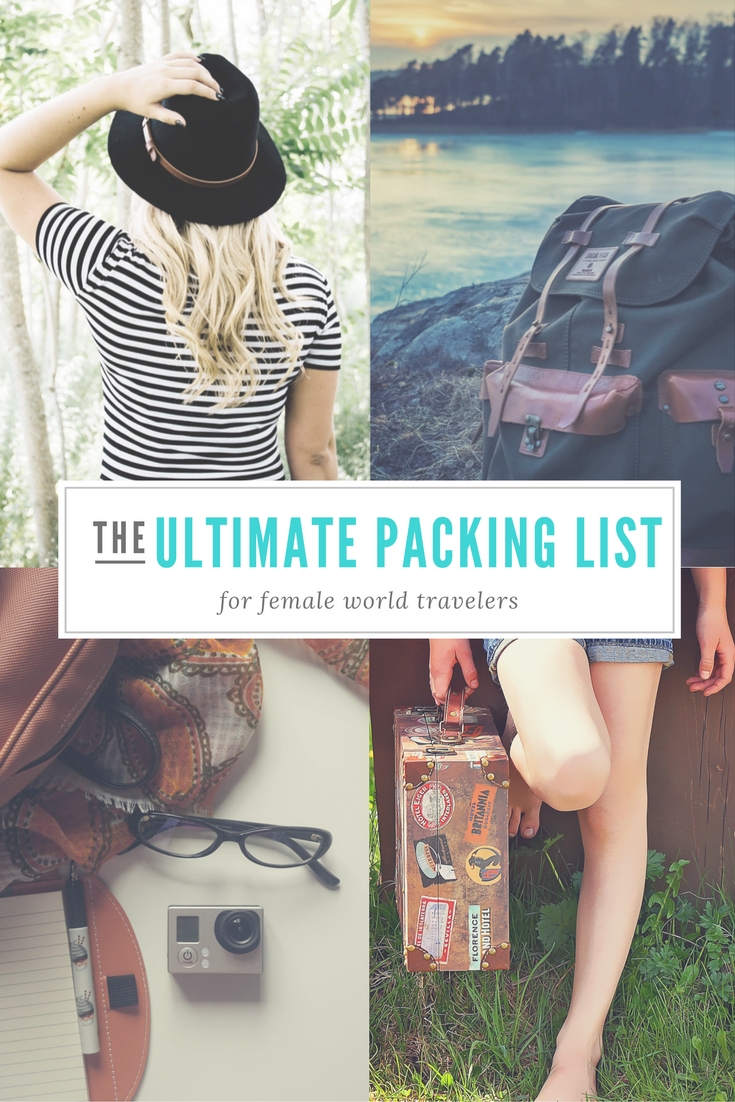 For anyone leaving on a long-term trip, how to pack for long-term travel is a pressing question. There are only a handful more considerations than packing for a two-week trip, and that namely concerns picking layerable clothes and options for a wide range of climates. I've traveled nonstop since 2008, and I've packed for a yearlong trip, I packed for business trips, and everything in between. My full packing page includes the most thorough discussion on the whys and why nots of every possible item — it's the internet's most thorough resource on long-term travel packing.
If you're after a faster rundown of the key items, this bullet list includes the essentials, along with my favorite products. These are the items that I'd never leave behind on a long-term trip, and the companies I've found create long-lasting options ideal for travelers. I own and love every recommendation on this list.
How to Pick the Right RTW Backpack?
Let's talk backpacks and luggage, and what you need for your trip. Since 2008, I've invested in a lot of great gear (all of which I pay for myself after endlessly researching options and testing out friends' bags). Most on a round the world trip opt for a backpack — it's convenient and adaptable. But for long-term travel, or a style different or slower than a formal RTW trip, you have options.
My Three Bags to Cover Every Type of Travel
I've settled on three bags over the years, and these cover any type of trip I take. I used the Eagle Creek bag on my round the world trip, and for years afterwards when I planned to travel quickly in developing countries. I use the Osprey bag for hiking the Camino de Santiago for six weeks — it's lighter weight than the Eagle Creek, so it works for hiking and traveling too. I only use the Osprey if I need to hike with my pack for multiple days, otherwise I find the lay-flat design of the Eagle Creek is superior for world travel. The Timbuk2 wheeled bag is an amazing find — the skateboard wheels help it stay upright on wonky sidewalks, and it saves my back now that I am into my ninth year of travel. I bring the roller bag to Europe, and on slow-travel trips, or if I move somewhere for six months.
5 Quick Tips to Pick a Backpack
While the How to Choose the Right Backpack page covers each aspect of the luggage in depth, here are five quick considerations before investing in a backpack for your trip.
Go as light as you think you need. I have never yet met a backpacker who wishes they opted for a larger pack. You will carry this pack up hills and tiny staircases, while racing for trains, and all over the world. Keep extra weight out of your pack by picking a backpack that holds everything you need, but not much else.
Comfort over style. Find the pack that best fits you and your situation, not the one that looks the coolest. We all have different statures, and brands differ on how the packs carry way or conform to the body. Spend time in your outdoors store, ask the salespeople for weights, and carry the weighted backpack around the store for at least 10 minutes. Then go home and think about it, research reviews online. An ill-fitting backpack is exceedingly uncomfortable at best and can permanently injure your back at worst.
Carry-on size or you pay extra! Around the world, you often pay extra for luggage. On low-cost airlines all over the world, you will pay for luggage. If you can meet the carry-on size guidelines, and pack the right sized liquids, you will save a lot of money over the course of your trip.
Consider your backpack an investment. Backpacks are not cheap. Most run in the US $150-$250 range, which means this is a serious investment for your trip. The good news is these packs are built to last, my Eagle Creek backpack lasted in pristine condition for three years before one minor compression buckle broke (easily replaced in Asia) and it is still kickin' nearly nine years later.
Properly adjust your pack. Buying a well-fitting backpack is only half the battle, now you have to make sure you adjust it all properly. I have readjusted the packs of at least two dozen backpackers over the past several years, whenever I see the pained expression on their face, I know they have straps misplaced or too tight, torso panels too short, and the load balanced incorrectly. Take the time to fit it perfectly to your torso size, and look up guidelines for your pack online.
Purses and Day-Packs
Your main RTW backpack is likely the one that causes you the most stress when you're planning your trip, and the smaller packs are secondary. But in the long-run, the pack or purse you carry day in and day out is nearly as important as your main bag. I have ruthlessly researched options over the years, and I pair the daypacks and purses below with whichever piece of luggage best fits my next trip. I almost always carry a purse no matter which electronics bag I use.
My Four Purses & Daypacks for Every Type of Travel
Daybag Options:
All of these options assume you need an electronics bag for a computer, camera gear, etc. If you plan to travel light on electronics, you can certainly opt for one of the lightweight, packable bags, or even just a purse.
My Purse:
Although some women don't use a purse while traveling, I am a purse person. I've spent years trying different companies and styles in search of the best cross-body purse for travel. The ideal purse holds a lot, has a wide strap, is well-made, and is attractive. That's a tall order.
This Travelon Purse is the closest I have found. It hits on everything I need in a travel purse. My favorite aspects: the side-pockets easily hold small water bottles, it's roomy inside (holds a camera during day-trips), easily wipes clean, and comes in pretty colors. Add to that a wide, very comfortable strap and a lot of pockets, and it's a solid place to start if you like cross-shoulder bags. This post outlines more features I enjoy.
When I am living overseas, or doing slow travels, I use this Vera Bradley Hipster Cross-Body Bag, because it's so cute and stylish. Mine lasted a year of rough, on the road travel, which is pretty darn good. At that point, I replaced it with the same purse in a new pattern. It has no safety features per se, but the pockets inside hold my phone, camera, and sunglasses, and the outside body-facing zip-pocket always holds my passport. It would not hold a full DSLR, but it does hold my micro-four thirds, which I consider is the best travel camera.
I also dig the hobo sack-like bags that you can purchase in the markets all over the developing world (and replace since it will rip easily)
Factors to consider in a purse:
---
Tech and Cameras
Electronics & Backup Solutions
I work from the road and as-such I have a lot of gear that some travelers might not need. That said, things like my Kindle, smartphone, and others are indispensable. Read the full packing gear guide for specific recommendations and ideas for what technology you should pack for your trip.
After a couple years on the road, the weird positions of working from the road caught up with me. In addition to the gear listed in the packing resources, I have a complete ergonomic travel system with a laptop stand and friendly tech that prevents carpal tunnel and RSI injuries. If you're keen on that, I have listed out The Best Ergonomic and Portable Travel Gear.
What Tech Gear & Electronics Should You Pack?
That post fully covers and discusses electronics and travel, but here's the quick rundown of my gear.
Backup Solutions
Depending on your travel situation, you should bring a backup hard drive. I use the Western Digital passports and it is compact and easily holds at least a terabyte. For more adventurous routes, consider the LaCie Rugged instead. Then you'll need extra memory sticks.
Then, consider online data backup programs. I used CrashPlan in the place, but Mozy or Carbonite also well-regarded backup options. Now, I actually just work exclusively in the cloud with Google Drive as my primary place to store documents and client files.
This is also a great Lifehacker piece with ideas on how to store and organize your travel photos. I use SmugMug to run my site, and I like knowing they are there. I also backup my iPhone to Google Drive. And then I use a backup hard drive for immediate backup and for storing the many gigs of travel photos I take every month.
Read my detailed post: How a Long-Term Traveler Backs Up Heaps of Data
---
Travel Insurance: Gear & Personal
One of the most important pre-trip planning decisions is which travel insurance best meets your needs. I get this question a lot from soon-to-been round the world backpackers and volunteers. I covered the post in depth last year in the Picking Travel Insurance post if you're interested, otherwise I'll summarize it here.
Since 2008, I have consistently maintained travel insurance whenever I am outside of the United States, and I risked having no insurance while I was back home for a few weeks/months at a time. Travel insurance is one of my biggest safeguards, and though some people claim healthcare in developing countries is cheap enough not to justify insurance, I feel that the insurance actually your just-in-case major backup. Like if you need a medivac (in a medical helicopter) home or in case you need the repatriation of your remains. And for all the smaller things too like severe traveler's diarrhea, transportation accidents, evacuations, etc. I also carry a separate policy for gear/property insurance, which I outline below separately.
I found both types of travelers and gear insurance far more affordable than I had anticipated and all of the companies now have very easy online interfaces. I have two main travel insurance recommendations, all recommendations are only from my personal research and experience, please read your policies and be aware of what is covered:
World Nomads: When I left to travel in 2008 as a solo backpacker, this was the best option on the market for my style of travel, my needs for an online interface, and a company that just works hard to treat the travel community right. That holds as true years later as it did then and I use World Nomads whenever I travel solo abroad. Of note, if you are leaving for a year, it's significantly cheaper for most World Nomads plans to buy six months and renew in six months — no clue why, but check both options.
IMG Patriot: When I took my nieces and nephews traveling (with my niece to Asia for more than six months in 2011/2012, with my nephews to Mexico in 2015) I felt like a family plan from IMG was the best option for the two of us.
I have never made a claim with either company, but with both insurance companies, I loved how quickly and seamlessly I was able to ask questions online and then secure the policies in the weeks before we left. I have many travel friends who have used both IMG and World Nomads and everyone who has made claims generally speaks highly of these two as some of the best options on the market.
Gear Insurance
I carry a separate gear insurance that covers the expensive electronics I carry on the road. If you plan to travel with expensive gear, I highly recommend that you take out a property insurance policy that is separate from your travel insurance. I use Clements Worldwide. They are intended for expats, so you will need to choose an address overseas. For travelers, one idea is to use a guesthouse from somewhere early in your travels — they will know you and you will only need to use their address if something goes wrong. Another option is to choose an address in the region you will spend the longest. Policies are annual, but I found it far more affordable than I had anticipated.
If you read the plan details in your general travel insurance, they are really aimed at keeping you healthy and safe; I've not yet found one with a policy that adequately covers my gear to the level I need with my camera, lenses, laptop, smartphone, etc. I don't get a commission from them, I just really believe in protecting your gear. I recommend you at least get a quote.
How To Keep Electronics Safe
This is a tough question and one that every traveler handles differently. On my end, I left on my RTW trip with enough money budgeted in for a brand new computer and with the assumption that it would get stolen at some point and I would need an immediate replacement. That never happened, but it is still how I think about the situation and as a freelancer I plan for this to happen and have my contingency fund in place.
Though on my first RTW trip I did not carry insurance on my electronics, I carry annual insurance on my valuables from Clements Insurance (though have never had to make a claim, thankfully!). It's affordable and I recommend it for peace of mind.
For safety, I carried a PacSafe mesh backpack net with me and it covered backpack and my gear and then could be affixed to a solid object. It's an expensive device and I used it perhaps six times the whole trip, but when I did use it I was so grateful to have that extra layer of protection. Other people have carried one and claim it's heavy (it is) and a waste of space (it is if you don't ever use it…) so it's really a personal preference! I think if you are a super budget traveler you may use it more than mid-range or higher budgets because of the types of guesthouses/hostels you are using.
There have been days I went sightseeing all over a new city with a heavy computer strapped on and causing sweat to drip down my back … but I knew it was the cost of bringing my job on the road with me and was willing to take the discomfort for the peace of mind that I still had my computer (and thus a way to make money) at the end of the day. This is not often the case, but it will happen if you're at a guesthouse or hostel that just doesn't seem very safe.
As far as visibility, I used mine at coffee shops and that sort of thing, but I did keep in mind the situation and if it was appropriate to bring it out in public (like I wouldn't show it at the beginning of a 16 hour train ride in India if I planned to sleep at some point).
Netbooks and tablets are a good compromise for backpackers who want the convenience of a laptop without the stress of an expensive device! For freelancers it comes down to just being one of the sacrifices you make to travel.
---
Health & Sickness
What Vaccinations do You Need?
I find this question is best answered my your nearest travel clinic. If you want an outline of the recommended shots, The Center for Disease Control is the best source on the internet for the vaccination-inclined.
As for costs, these can stack up if you use a travel clinic in the United States; consider that a travel blogging family managed to save about $1,000 by getting their shots at the beginning of their RTW trip at a very reputable travel clinic in Thailand: Cut the Cost of Travel Vaccinations. I traveled with my niece in 2011 and was responsible for choosing her vaccinations and in that post I listed out concerns for parents and the shots she got for our travels in Southeast Asia. For me, these are the shots I have right now—some are standard childhood ones, others usually just for travelers are marked with an asterisk*:
Hepatitis A
Hepatitis B
Meningitis
MMR (measles, mumps and rubella)
Polio
Tetanus/Diphtheria (Td)* (get a booster before you leave)
Typhoid*
Yellow Fever* (is a proof-required vaccine for several countries)
I do not have these vaccines, but some other travelers do:
Japanese Encephalitis
Rabies
Cholera
Chicken pox booster if you've never had it/only had the vaccine
What's the Deal with Sunscreen?
I used to be surprised by how often this question crops up … but now I get it, fellow pasty white Westerners are concerned about all of the adventure activities and staying sun-safe.
So, yes, I wear oodles of sunscreen when I am out sight-seeing. I also bring one fancy SPF shirt and use if for diving/snorkeling/hiking/on a very long sightseeing day. This really does wonders for keeping a sunburn away.
Also, pack a wide-brimmed floppy hat and then actually wear it!
The last consideration is bringing the sunscreen with you. In Asia most of the sun creams and face washes have tons of extra "whitening chemicals" so I bring a decent amount of my favorite sunscreen (Neutrogena) to get me through. But if I run out, it's easy to restock over there if (get the children's sunscreen to avoid the whitening chemicals!).
How Should I Handle My Period on the Road?
I love the Diva Cup with every fiber of my being. It's a reusable, medical-grade silicone menstrual cup that I fully reviewed just after my RTW finished. It's sanitary, you never have to buy tampons on the road, and it's ideal for remote travel when can't dispose of trash. This is not a sexy topic, and one that embarrasses a lot of people, but in the review I give a frank overview of why you should consider going with a Diva cup rather than dealing with the hassle of hunting down tampons in a tiny town in Laos.
If you're concerned about hygiene, check out the health section of this post for more on dealing with toilet issues, health, and illness.
---
Responsible Travel
Volunteering
I wrote a book on volunteering! And while I think that's the best place to start, if you're keen to begin your research right now through the interwebs I point you to these resources and articles.
---
Handle the Practicalities
US Mail Services for Travelers and Expats
What to do with your US mail is a tough call for some travelers who do not feel comfortable having a family member take care of their postal mail while they are traveling or living abroad. My parents are very good about processing my mail, and my father regularly sorts, opens, and scans anything important. That being said, there are options perhaps even better than a family member if you anticipate more than junk mail coming to your address (and if you will be gone for several months.
Earth Class Mail is a good option I according to other travelers — they scan your mail and allow you to sort what you would like them to do with it via an online interface. You can trash it, forward to yourself (anywhere in the world), forward to a family member for handling, or view the scanned image of the mail and deal with it when you return!
St Brendan's Isle: This is highly rated in the forums and does a roaring business with the cruisers and snow-birds who leave the country for some time each year. Affordable services and good online reviews.
Handling US Taxes While You Travel
Let's start upfront by noting that I am not a tax accountant so take this all with a grain of salt; it's my personal experience with taxes from the road.
I have an accountant in the United States who does my taxes, I went this route about five years ago when I started writing off expenses related to freelancing and running myself as a business—I feel that using an accountant saves me money in the end because he knows all of the extra discounts as well as the specifics so I don't mistakenly file something incorrectly! Also though, because I never travel for a full year anymore, I tend to have him file an extension for me and then I do my taxes when I come home. This works for me but might not if you're out of the country from April through October (when the extensions must be filed). In that case, get everything in order before you leave.
My parents handle mailing in any of my W2s to my accountant and the rest is taken care of by my accountant. I am not particularly meticulous and really suck at organization but yet somehow to easily file each year. I prefer Paypal payments when possible because they are easy to track and convenient.
I keep a Google Spreadsheet to log all of my incoming money, then I log expenses (like internet on the road, any extra room costs for internet on the road/a desk in the room, etc) as well in various categories with the date, country, expense in local currency and expense in international currency. This is where I keep track of anything extra that crops up that you might forget later down the line—log it in the spreadsheet and then send to your account for magical wonders because all you need to send in are the category totals and they put the deductions in the proper spots! :)
If you're gone for a while and/or living abroad, consider combing through this site for advice: Taxes for Expats.com
Laundry on the Road?
Don't fret about this! There are places to do laundry in every country and if I am trekking or really can't find something I hand-wash it (this is often the case with underwear if I run out I just hand wash a few!). Laundry can be really cheap to have someone wash and dry it for you, and if you're in a pinch then you'll need to hand wash.
When I volunteered in Nepal I had to hand-wash my own clothes because we were outside of the tourist areas, but most locals and guest house owners will provide you with a couple buckets and you can make quick work of it. Though it's not glamorous, learning how to really get your clothes clean on the road is a bit of a rite of passage for long-term travelers.
How Do I Get Rid of My Stuff?
Purging for long-term travel is necessary, I was fortunate that my storage location was on the exact opposite side of the country (Los Angeles to Florida) so I sold every single possession that wouldn't fit in my car (and subsequently my parent's closet).
Even if you have the room and luxury of not purging before your next trip, consider stripping yourself down: minimalism is the new pink. There are a good number of online resources. This post from Zen Habits is a great start, and this one has some other great ideas. My friends Warren and Betsy wrote a great guide about purging before a trip, Getting Rid of It and then there is always this highly rated but kinda wacky Japanese approach to decluttering, The Life-Changing Magic of Tidying Up.
---
Life on the Road
A running series on the site take place on the first Tuesday of every month and addresses some of the fears and obstacles travelers face in deciding to travel around the world. These are the very detailed posts (some are 4000+ words) in this series:
Safety and Solo Female Travel
This topic is best addressed in a long and detailed post I wrote about the subject of safety, which outlines which safety fears are misguided (or perhaps unfortunately guided by the media rather than fact) and which are informed fears. It also provides practical ways to tell between the two.
Eight Tips for Solo Female Travelers (each described in detail in the post).
Understand local cultural norms.

Involve others in your safety.
Carry a doorstop and safety whistle.
Stay aware.
Stay sober.
Know basic self-defense.
Carry travel insurance.
Pay for your safety (even if that means a paying a bit more for a cab or hotel).
Posts worth reading on the subject of safety
Safely Find Street Eats and New Food Experiences
Many first-time travelers fear the local foods in new places. It's natural to have some trepidation where food is concerned, and some caution is certainly healthy since food-borne illnesses are a top cause of travel sickness. That being said, you'll miss a wonderful part of your experience if you stick to the perceived "safe" foods listed in popular guidebooks, or just to the tourist-sanctioned restaurants.
With a few tips in hand you can happily enjoy street foods, local cuisine, fascinating markets, dinners with locals, and new flavors—even if you're a vegetarian traveler (I am too!).
Safety Basics
Eat your food piping hot and fresh; lukewarm food can harbor bacteria.
Focus on fresh, cooked to order.
Find the busy restaurants and street stalls, others have already vetted them with their tummies!
Drink clean water (that can mean: tap, bottled, filtered, or cleaned with devices like the SteriPen).
Eat at appropriate times of the day (some cultures eat the biggest meal of the day at lunch, so follow suit and align your eating habits to the local culture).
Avoid porous fresh fruits and veggies. In more developed countries you're fine eating uncooked foods, but in places with poor water sanitation consider unpeeled apples, grapes, lettuce, and tomatoes off-limits from street stalls and often even restaurants.
When you're looking for new flavors and foods, search Wikipedia (Wikipedia.org) for local cuisine basics, as well as travel blogs to further research fun new foods to try in your chosen country. And if you want a food-focused trip, use the Food Traveler's Handbook to find cheap and safe eats anywhere in the world — the author also has this handy and dense guide to safely eating street food anywhere in the world.
Alternative Eating Options
I love eating street eats in many countries, but that's just one type of food experience. In addition to shopping in the markets and sampling the street carts, there are other ways to share a meal in an authentic and local way. Consider adding these options into your next trip to round out the types of food experiences you have in each new place.
EatWith: A brilliant site with a global community that allows you to pay to dine with local hosts in their homes. They are growing rapidly so if they don't have an experience in your next city, check back for the next city!
Couchsurfing: You can use this site to find meetups with locals and other expats in the area. It's a great way to make connections in a new city and they often make for a much better social eating experience.
Take a cooking class: Cooking classes are fun, the good ones add in some history, and you learn how to prepare a handful of dishes directly from a local. You can ask heaps of questions, experiment with the flavors, and generally delve deeper into the region's food culture.
Find a market: Using the safe street eating tips above, head to a local market and sample away! If you are genuinely curious and open you can find some neat new foods and dishes.

Staying Occupied on Long Travel Days
So, you're hitting the road and staring straight into the face of an 18-hour bus ride. Or a 12-hour train. Or a 14-hour flight. It can be brutal, but you're likely carrying some gadgets so there are a lot of options for your long travel days.
---
Working, Traveling, Blogging, & Digital Nomads
This entire section now lives on a separate page dedicated to the unique issues facing working travelers. This new page covers all the major issues you might face:
How to Find Freelance Work
Teaching English Overseas
Find an Overseas Job
Travel Blogging & Making Money
Freelance Travel Writing
Becoming a Travel Photographer
Read my tips for blogging, freelancing, and becoming a digital nomad!
---
Let's Connect
Let me know if you have any other questions or something I can help you with; I am happy to lend an ear or help you find the resources you need to plan your own world travels. I look forward to chatting! :)
Other places you can find me:
Pick Your Pin!
*Last updated on: