Last updated on May 25, 2020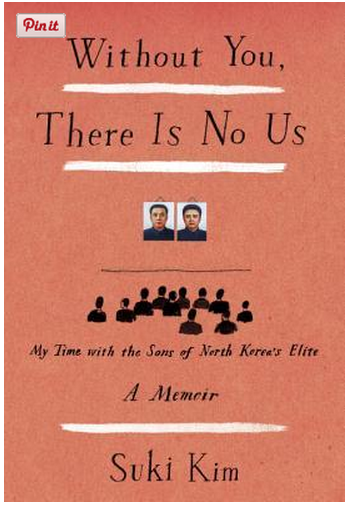 North Korea is all over the news lately. Over the holidays, the controversy over the film The Interview put the country back in the spotlight (is it ever far?) and highlighted for the world just how far the North Korean government will go to control information. A week after I watched the film, a close friend recommended Suki Kim's memoir, Without You, There Is No Us: My Time with the Sons of North Korea's Elite. The author is Korean-American journalist who taught in North Korea under guise of a missionary worker.
From the moment I picked it up, I was hooked. Kim details a haunting and claustrophobic land that is rarely glimpsed by the outside world. I have known traveling friends who visited North Korea, who witnessed the orchestrated and precise dissemination of information during their stay. The government has absolute control over all visitors, meaning I've remained cautiously curious about everyday life for North Koreans.
Kim had rare access to the country during her six months as a missionary teacher at Pyongyang University of Science and Technology, which is a bit of a misnomer. Missionary efforts funded the school, but there's little science and almost no technology—those things are both dangerous ideas in a totalitarian state. Instead, the students learn a basic curriculum, as well as English, and Kim and the students lived on the grounds of the boarding school.
Kim's memoir details the parts we know about: Every conversation is monitored, disseminating unapproved information will get you thrown in jail, and privacy doesn't exist. It's the relationship with her students, however, that makes this book fascinating and it's why my review gives the book high marks overall. For six months in 2011, Kim taught English to 19- and 20-year-olds from North Korea's most elite families. From her position at the school, Kim is given a distant vantage at how the ruling family constructed their complete control: images and quotes from three top leaders adorn nearly every building, bench, and rocks. Songs and television programs all exalt the ruling family; she borrows the title of her book from one of nation's favorite songs, which extols the virtues of the deceased former ruler, Kim Jong-il.
Though Kim has access to the internet from her dormitory, the boys at the school have little idea it exists and instead believe that an internal network, an intranet, is the ultimate level of technology in the world right now. The counterparts and minders restrict her every interaction with the students, but familiarity eventually allows her glimpses into their lives and inner thoughts. Rare moments of childish candor or curiosity break through the students' brainwashing and uniformity. It was fascinating to watch the progression of knowledge and insight she gained over the six months. The country was a claustrophobic, paranoid experience for her, and that also came through clearly in her writing.
One drawback: the book is uneven. Though I rapidly read most of it, Kim lost me at points in her story through arbitrary details and sameness.
For travelers curious about different people and cultures, this book makes for a fascinating read. There is no culture like that on earth, the decades since separation with South Korea have allowed North Korea to take a sharply different turn. The world has waited and watched for the collapse of the North Korean regime for decades, and Kim's book gives glimmers of both hope and despair.
If you're keen to read it, you can find the book on Amazon.
Book Giveaway
I offered a free copy of Without You, There is No Us to newsletter subscribers and readers—this giveaway is now closed.
Bonus entry question:
Tell me in the comment: what is one goal you want to accomplish in the next month?
And hey, consider sharing the love. I'll send you good juju if you share this post/site with one person you think might also love to read it! :)
Read my past travel book reviews, or browse my selection of the best books about countries around the world. And read my reviews policy and disclaimer. Although I occasionally allow a company or author to host a giveaway, I sponsored this month myself.