Last updated on May 3, 2017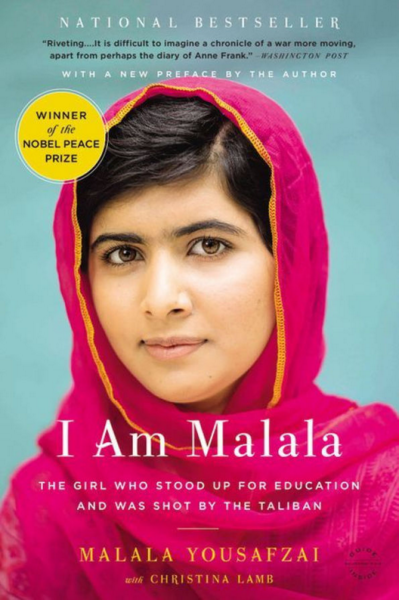 I picked up I Am Malala on a whim; I was strolling through Target for a toddler birthday gift and saw it on the shelf. I had seen her speech to the United Nations Assembly, and I found her message compelling. I also own that I didn't know a lot about Pakistan, and I found that prospect compelling too. I know the dangers of only having a single story, one view through which I see the entire country. I wanted a chance to widen my perspective on the conflict in that region of the world. Malala's book so clearly achieved that without ever seeming heavy or mired in politics and opinion.
Though Malala is most known for surviving a Taliban attack, she starts the story earlier. She writes of her childhood and the worldview her father instilled in her. You see her education advocacy work bubble to the forefront as it took root in her life — not as an overt political statement, but simply a schoolgirl's desire to learn. It's only as the Taliban rises to power that she weaves in current events. And that too is fascinating.
The Pakistan of Malala's childhood is different from anything I ever considered. Throughout her story, Malala offers a Pakistani version of events that I had known only through my own American worldview. Though I try to read widely and beyond mainstream news media, I have a filtered version of the world viewed through English-language information. I am surrounded by my country's rhetoric about Islam and the countries in and near the Middle East. Though Malala left Pakistan before ISIS took the main political stage, reading her book is perhaps even more timely in light of current events. I see American media tell just a single story about Islam and the conflict in that region. While Malala never gets overtly political, she instead uses her story to show what it felt to live through various milestone events. She writes about the friends, family, and neighbors casually killed by the Taliban in the early days. She shares her struggles during a massive internal displacement — she and all the people she loves scattered around Pakistan to flee the Taliban.
She gives a voice to what it was like living in Pakistan during a period of conflict. And through her story, it gives a slight glimpse at what families in Syria must face as ISIS fights for control of their homes and their lives.
Some have made comparisons to the diary of Anne Frank. The comparisons are apt. Both books lack artifice or fancy language. The authors don't put on airs. They share their thoughts, hopes, and dreams with a sophisticated simplicity. Hearing the story from their viewpoint allowed me to see a clearer truth. Malala tells her story with unflinching honesty and a clarity of language that speaks louder than any fancy prose could. Last week, a friend shared that he would have more compassion for Syrian refugees if he had even a single Muslim friend. He knew his worldview was limited without a nuanced understanding of the religion and the people from this region. And you know, Malala's story just might be that Trojan horse in disguise. She might just be a friend for those who want to know more about the Islam and that region of the world.
You can find I Am Malala on Amazon.
Book Giveaway
I offered a free copy of I Am Malala  to newsletter subscribers and readers.
Bonus entry question:
Tell me in the comment: What is one place on your travel wishlist for 2016?
And consider sharing the love. I'll send you good juju if you share this post/site with one person you think might also love to read it! :)
Read my past travel book reviews, or browse my selection of the best books about countries around the world. And read my reviews policy and disclaimer. Although I occasionally allow a company or author to host a giveaway, I sponsored this month myself.